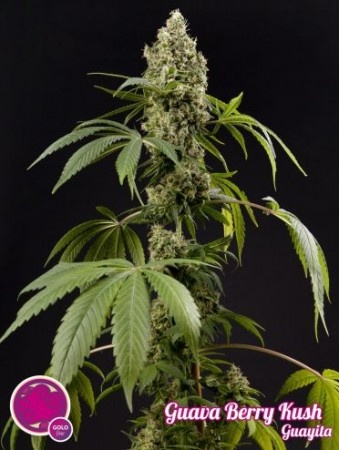 (Philosopher Seeds: Guava Berry Kush / Guayita)
HYBRID
Philosopher Seeds:
Guava Berry Kush / Guayita
Flowering Time: 50-60 days
Genetics

In order to get a made ​​in the USA flavour with our touch, we have crossed an elite clone of Guava (Chemdog x Afghani x Chem # 91) with the best elite clone Juanita The Lagrimosa. The result is a peculiar mix of earthy Guava flavors with fruity citrus notes of Juanita Lagrimosa.

Culture

Ideal for indoor and suitable for outdoor cultivation. High yield.

Guava Berry Kush / Guayita is a stable phenotype Indian plant which has strong and robust large central bud, with little branching, wide and deep green colored leaves that are clearly reminiscent of it's parent Guava.

Its compact and uniform structure make it ideal for cultivation in SOG (Sea of Green), for which we recommend a density of between 20 and 25 plants per m2.

Guava Berry Kush / Guayita is not a very nutrient demanding plant. It needs to be watered regularly in the flowering period, especially at temperatures above 25°C. Another of the many qualities of this variety, is the flowering cycle with little leaf, so it will be easy and comfortable to tend.

It is pests and diseases resistant, adapts easily to weather changes as well as tolerat to low temperatures.

Taste and effects

Guava Berry Kush / Guayita has a strong earthy flavor with a sweet Berry touch. The marriage of these two parents offers stunning Kushflavors. The flavors of the two precursor varieties have resulted in a sweetened Guava with a long finish on the palate.

Guava Berry Kush / Guayita produces a strong effect,surrounding body and soul in a bubble. We recommend smoking it at the end of the day to relax.

In most phenotypes very high concentrations of CBD is obtained.

Kush flavour with CBD
Features:

Genetics: Guayaba x Juanita la Lagrimosa
Sativa - Indica content: 40%-60%
Indoor flowering: 50/60
Outdoor harvest Northern Hemisphere: Mid October
Outdoor harvest Southern Hemisphere: Mid April
Indoor yield: 450-550 gr/m2
Outdoor yield: 500-1800 gr per plant
THC: 18%
CBD: 12%
Philosopher Seeds: Guava Berry Kush / Guayita
Shop
Country
Payment / Shipment
Offers

BPPS

Spain
ACCEPTED PAYMENT:: BANK TRANSFER
MAILING CASH
BITCOIN

SHIPPING::The shipping and handling costs depend on the country and the total value of the order. From 400 Euros you will even receive a a discount of 10% on the total of your order.Within Europe a letter takes between 2 - 5 working days and outside Europe usually between 5 - 10 days. But this all depends on the postal service in your country. Once the letter is in the mail we have absolutely no influence.

Shop

Shop

6,11 €
Austria
ACCEPTED PAYMENT:: BANK TRANSFER
CREDIT CARD
BITCOIN
WESTERN UNION

SHIPPING::All costs, the shipping and handling, as well as the costs of the moneytransaction and the customs duty, pay our customers. All goods will be delivered with the Austrian Post - if the amount is higher than EUR 100,-- we will send the order always insured. If the amount is under EUR 100,-- we send it regular but you have an option at the orderprocess where you can choose an insured delivery - this service costs EUR 2,85 extra. If you wish a Stealth-Delivery you can also choose this during the orderprocess - for this service we charge you EUR 5,50 extra. Stealth-Delivery means that we repack your seeds from the original breederspack into an other very discreet package. Orders of EUR 150,-- (€) or more we do not charge any shipping or handling fees. For return delivery and rejected delivery we have to charge you 10 % of the total amount!

Shop

Shop

5,44 €
United Kingdom
ACCEPTED PAYMENT:: PHONE
CREDIT CARD
MAILING CASH

SHIPPING::The Attitude' ships worldwide but we ask you to check your local law before ordering, as laws differ from country to country, state to state and by ordering, you are confirming that you are ok to do so.

5 Fem. Seeds for 40,69 € *

Shop

8,14 €
Spain
ACCEPTED PAYMENT:: BANK TRANSFER
CREDIT CARD
MAILING CASH

SHIPPING::Check costs for your country on www.alchimiaweb.com/en/transportation.php

Shop

Shop

Shop

Shop

3,50 €
Last checked: April 6th, 2019 | Prices containing * are currency converted and may differ insignificantly from the price of the vendor.