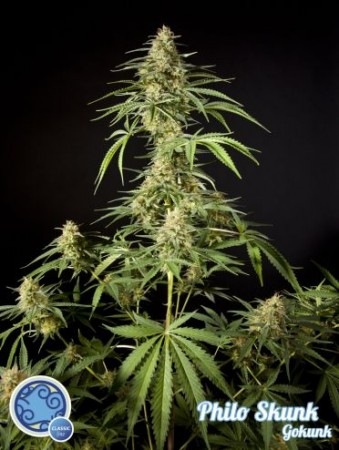 (Philosopher Seeds: Philo Skunk / Gokunk)
HYBRID
Philosopher Seeds:
Philo Skunk / Gokunk
Flowering Time: 60-70 days
Genetics

Philo Skunk / Gokunk is a cross Somango x Mazar. These two strains were previously crossed with Skunk. The result, clearly retains all the qualities of the Skunk family improving productivity and vigor.

Culture

Suitable for indoor and outdoor cultivation.

It is developes strongly but needs supports from the third or fourth week of flowering (12/12) to support heavy buds.

The ideal density inside for SOG is 20 to 25 plants/m2, with a vegetative growth period of three weeks. To perform a SCROG, the ideal density will be from 9 to 15 plants per m2 with a growth period of three to five weeks.

Easy to grow variety that does not require special care.

Outdoors, this plant grows very large and can exceed two meters.

Taste and effects

The highlight of this variety and what makes it distinctive is undoubtedly its taste and aroma, which are really sweet and fruity, with a strong Skunk taste, leading to old wood as you go further along the process of drying and curing. The smoke permeates the taste buds completely and lingers.

Its effect is relaxing, indicated to relieve tension, enjoy a good movie or listen to music.

Easy to grow and productive Skunk
Features:

Genetics: Somango x Mazar
Sativa-Indica content: 40%-60%
Indoor flowering: 55-65 days
Outdoor harvest Northern Hemisphere: Late September, early October
Outdoor harvest Southern Hemisphere: Late March, early April
Indoor yield: 450-550 gr/m2.
Outdoor yield: 500-1800 gr/plant
THC: 20%
Philosopher Seeds: Philo Skunk / Gokunk
Shop
Country
Payment / Shipment
Offers

BPPS

Spain
ACCEPTED PAYMENT:: BANK TRANSFER
MAILING CASH
BITCOIN

SHIPPING::The shipping and handling costs depend on the country and the total value of the order. From 400 Euros you will even receive a a discount of 10% on the total of your order.Within Europe a letter takes between 2 - 5 working days and outside Europe usually between 5 - 10 days. But this all depends on the postal service in your country. Once the letter is in the mail we have absolutely no influence.

Shop

Shop

6,11 €
United Kingdom
ACCEPTED PAYMENT:: PHONE
CREDIT CARD
MAILING CASH

SHIPPING::The Attitude' ships worldwide but we ask you to check your local law before ordering, as laws differ from country to country, state to state and by ordering, you are confirming that you are ok to do so.

5 Fem. Seeds for 40,69 € *

Shop

8,14 €
Spain
ACCEPTED PAYMENT:: BANK TRANSFER
CREDIT CARD
MAILING CASH

SHIPPING::Check costs for your country on www.alchimiaweb.com/en/transportation.php

Shop

Shop

Shop

Shop

3,50 €
Last checked: April 6th, 2019 | Prices containing * are currency converted and may differ insignificantly from the price of the vendor.