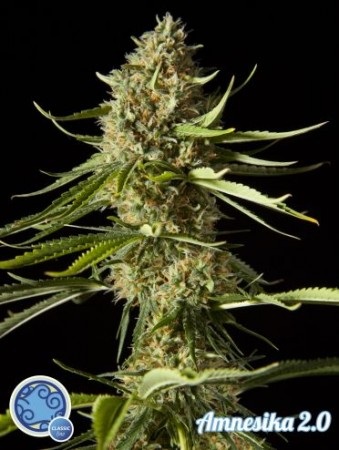 (Philosopher Seeds: Amnesika 2.0)
HYBRID
Philosopher Seeds:
Amnesika 2.0
Flowering Time: 60-70 days
Genetics

Amnesika 2.0 is the evolution of our first variety Amnesika. With the clear objective to increase production and shorten the flowering stage, we have contributed to Amnesia "Cordovan" the famous genetic Critical Mass of Mr Nice.

Culture

Suitable for large indoor and outdoor productions.

This variety has an explosive growth and a short flowering period. It is ideal for SOG crops with a density of 25 to 30 plants per m2. In this case, we recommend giving 2 to 3 weeks of growth and prune a lot of the lower branches as it is a branched plant.

Outdoors a colossal size can be reached. In the ground heights of two meters are achieved easily. On balconies and terraces it is recommended to use pots of 11-40 liters for descretion.

Growing is simple: it is an easy grow and is perfectly suited to all kinds of substrates and cultivation methods. Furthermore its structure of medium internodal spacing and few leaves allow easy pruning.

In many cases, we recommend using supports some mesh to carry the weight of the buds.

Taste and effects

Amnesika 2.0 offers a combination of Skunk and Haze flavors . It is a particularly aromatic plant, both fresh and dried. It has an aftertaste of nuts, particularly reminiscent of hazelnut.

Its effect is very overwhelming and devastatingly psychotropic. In short, please enjoy it near a sofa, her high is brutal.
Philosopher Seeds: Amnesika 2.0
Shop
Country
Payment / Shipment
Offers

BPPS

Spain
ACCEPTED PAYMENT:: BANK TRANSFER
MAILING CASH
BITCOIN

SHIPPING::The shipping and handling costs depend on the country and the total value of the order. From 400 Euros you will even receive a a discount of 10% on the total of your order.Within Europe a letter takes between 2 - 5 working days and outside Europe usually between 5 - 10 days. But this all depends on the postal service in your country. Once the letter is in the mail we have absolutely no influence.

Shop

Shop

6,11 €
United Kingdom
ACCEPTED PAYMENT:: PHONE
CREDIT CARD
MAILING CASH

SHIPPING::The Attitude' ships worldwide but we ask you to check your local law before ordering, as laws differ from country to country, state to state and by ordering, you are confirming that you are ok to do so.

5 Fem. Seeds for 40,69 € *

Shop

8,14 €
Spain
ACCEPTED PAYMENT:: BANK TRANSFER
CREDIT CARD
MAILING CASH

SHIPPING::Check costs for your country on www.alchimiaweb.com/en/transportation.php

Shop

Shop

Shop

Shop

3,50 €
United Kingdom
ACCEPTED PAYMENT:: BANK TRANSFER
CREDIT CARD
BITCOIN
DIGITAL WIRE TRANSFER
CHECK OR CASH BY MAIL

SHIPPING::Please note we only offer tracked shipping to the follow countries: Andorra, Australia, Austria, Belgium, Brazil, Canada, Canary Islands, Croatia, Denmark, Estonia, Finland, France Germany, Hong Kong, Hungary, Iceland, India, Ireland, Latvia, Liechtenstein, Lithuania, Luxembourg, Malaysia, Malta, Netherlands, New Zealand, Poland, Portugal, Singapore, Spain, Sweden, Switzerland, United Kingdom and the USA. If you order your cannabis seeds to any country which is not on the above list, we will send it but cannot guarantee it's delivery, even if you select the "Guaranteed Delivery" product on checkout.

Shop

Shop

Shop

6,70 €
Last checked: April 6th, 2019 | Prices containing * are currency converted and may differ insignificantly from the price of the vendor.