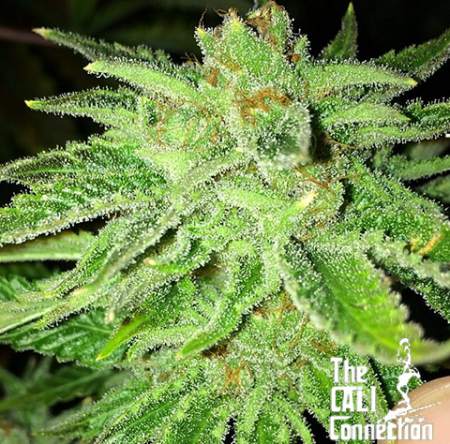 (The Cali Connection: Strawberry OG)
HYBRID
The Cali Connection:
Strawberry OG
Flowering Time: 60-70 days
Strawberry OG consists of a cross between Bruce Banner #3 which hails from Colorado crossed initially to our SFV OG Kush F4. Upon searching for the strawberry flavored OG looking plant, we found our specimen and outcrossed it to out Tahoe OG Kush S1 to make the feminized seeds. These seeds are a solid strawberry/lemon pie flavored OG looking Bruce Banner structure plant with a solid yield and a very fast flowering time, about 63-68 days. Expect a very high terpene profile very strong competitive of your more flavorful strains out there, think strawberry lemonade. Yield will be medium to large.

Strawberry OG
Strain: Hybrid Indica/Sativa
Lineage: Bruce Banner #3 x SFV OG IBL
Seeds: Fem Only
Fem seeds- Bruce Banner #3 x Tahoe OG S1
Yield: Medium – Large
Flowering Time: 63-68 Days
The Cali Connection: Strawberry OG
Shop
Country
Payment / Shipment
Offers

BPPS

United Kingdom
ACCEPTED PAYMENT:: PHONE
CREDIT CARD
MAILING CASH

SHIPPING::The Attitude' ships worldwide but we ask you to check your local law before ordering, as laws differ from country to country, state to state and by ordering, you are confirming that you are ok to do so.

Shop

Shop

13,56 €
Last checked: April 6th, 2019 | Prices containing * are currency converted and may differ insignificantly from the price of the vendor.