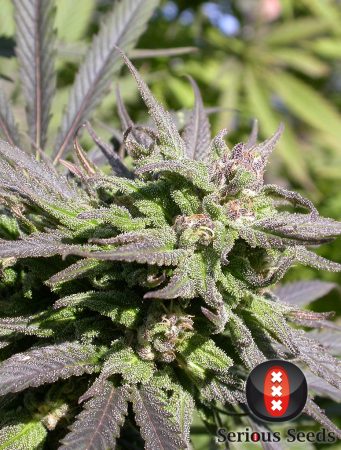 (Serious Seeds: Biddy Early)
SATIVA
Serious Seeds:
Biddy Early
Flowering Time: 50-60 days
Biddy Early is our outdoor variety especially developed by Gerrit from Magus Genetics for the Dutch humid and cold climate. This strain is now already one of the best ever for the northern countries of Western Europe. It can easily grow to two meters of height in a normal outdoor season. Its relatively early finishing time combined with a very good resistance against molds make it very suitable for outdoor grows in the Dutch and similar northern climates. This very easy to grow plant is perfect for the novice and inexperienced grower and therefore our "Startersmodel". We keep the price of this variety extra low to give beginners and people with smaller budgets the chance to also grow a strain of Serious quality. Most plants will show red and purple colorations under low temperatures. The Biddy Early also gives great results indoors, but keeping motherplants in a vegetative state is a little bit difficult because of its willingness to start flowering. The aroma of this plant is a mix of an unfamiliar earthy scent with a sweet candy taste which gives a surprisingly pleasant and powerful high. In 2003 Biddy Early has won the second place in the category "Best Sativa" at the High Times Cannabis Cup in Amsterdam. Biddy Early won this award as the only outdoor-bud in this category, competing against solemnly indoor-buds. This proves the extraordinary quality of this strain. Some people even claimed it was the best cannabis they ever smoked.
Serious Seeds: Biddy Early
Shop
Country
Payment / Shipment
Offers

BPPS

Spain
ACCEPTED PAYMENT:: BANK TRANSFER
MAILING CASH
BITCOIN

SHIPPING::The shipping and handling costs depend on the country and the total value of the order. From 400 Euros you will even receive a a discount of 10% on the total of your order.Within Europe a letter takes between 2 - 5 working days and outside Europe usually between 5 - 10 days. But this all depends on the postal service in your country. Once the letter is in the mail we have absolutely no influence.

Shop

Shop

2,70 €
United Kingdom
ACCEPTED PAYMENT:: BANK TRANSFER
MAILING CASH
CREDIT CARD
BITCOIN

SHIPPING::Our expert team sends packages worldwide every day. We use discreet stealth packaging and have a very good track record of sending seeds to every country.

11 Reg. Seeds for 40,86 € *

Shop

3,71 €
Spain
ACCEPTED PAYMENT:: CREDIT CARD

SHIPPING::We ship worldwide!

Shop

Shop

5,84 €
Netherlands
ACCEPTED PAYMENT:: BANK TRANSFER
DIRECTebanking
iDeal
BITCOIN
MAILING CASH

SHIPPING::We ship to all countries within the EU. We strive to offer you the lowest possible shipping rates. To offer you even further value, all orders of € 150,- or more are sent free of charge!

6 Reg. Seeds for 35,00 €

Shop

5,83 €
United Kingdom
ACCEPTED PAYMENT:: PHONE
CREDIT CARD
MAILING CASH

SHIPPING::The Attitude' ships worldwide but we ask you to check your local law before ordering, as laws differ from country to country, state to state and by ordering, you are confirming that you are ok to do so.

Shop

Shop

Shop

3,70 €
United Kingdom
ACCEPTED PAYMENT:: BANK TRANSFER
CREDIT CARD
BITCOIN
DIGITAL WIRE TRANSFER
CHECK OR CASH BY MAIL

SHIPPING::Please note we only offer tracked shipping to the follow countries: Andorra, Australia, Austria, Belgium, Brazil, Canada, Canary Islands, Croatia, Denmark, Estonia, Finland, France Germany, Hong Kong, Hungary, Iceland, India, Ireland, Latvia, Liechtenstein, Lithuania, Luxembourg, Malaysia, Malta, Netherlands, New Zealand, Poland, Portugal, Singapore, Spain, Sweden, Switzerland, United Kingdom and the USA. If you order your cannabis seeds to any country which is not on the above list, we will send it but cannot guarantee it's delivery, even if you select the "Guaranteed Delivery" product on checkout.

6 Fem. Seeds for 97,78 € *

Shop

16,30 €
Last checked: April 6th, 2019 | Prices containing * are currency converted and may differ insignificantly from the price of the vendor.