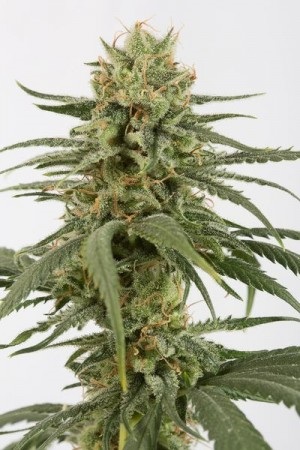 (Dinafem: Amnesia CBD)
HYBRID
Dinafem:
Amnesia CBD
Flowering Time: 60-70 days
Amnesia CBD cannabis seeds by Dinafem Seeds belong to a Sativa-dominant, feminized cannabis strain that originates from the cross of an Original Amnesia and a CBD-rich strain. Our collection could not do without a CBD version of one of the most popular strains of all time, the legendary Amnesia Haze, whose quality and personality are simply astounding. And being its extreme potency the only drawback found in it, we decided to reduce it so that it could also cater to those users with little tolerance to strong cannabis.

Amnesia CBD is a marvellous choice for Sativa-lovers who are eager to enjoy the stunning organoleptic traits of the iconic original Amnesia but prefer a far more moderate and bearable effect, as well as for users looking for therapeutic properties. All this is down to its 1:1 THC/CBD ratio, which leads to a lower-than-usual psychoactive effect.

Amnesia CBD cannabis seeds grow with great ease, and evolve into open and slender plants capable of producing generous crops of thick, elongated buds coated in trichomes. It must be noted, though, that fertilising the plant moderately will certainly improve its flavour and aroma. In a nutshell, a cannabis strain that proudly embodies all the traits of the original Amnesia except for its effect, which is undoubtedly more soothing; perfect to relax mind, body and soul.

Amnesia CBD is a marijuana plant that possesses really deep flavours and aromas, with hints of lemon, sweet fruits, exotic wood and Haze. The moderate effect it delivers is slightly cerebral, ideal as an inspiration booster or even as a well-being provider. It cannot be forgotten that it has also proved to be really effective for fighting stress.

Characteristics of Amnesia CBD cannabis seeds by Dinafem Seeds

Suitable for indoors and outdoors
Sex: feminized
Genotype: 60% Sativa/ 40% Indica
Cross: Original Amnesia x pure CBD
Indoor flowering period: 60-65 days
Outdoor harvest time: mid-October
Indoor yield: 550 g/m2
Outdoor yield: 1100 g/plant
Outdoor height: up to 3 m
THC: 8%
CBD: 10%
Ratio THC/CBD: 1:1
Dinafem: Amnesia CBD
Shop
Country
Payment / Shipment
Offers

BPPS

Spain
ACCEPTED PAYMENT:: BANK TRANSFER
MAILING CASH
BITCOIN

SHIPPING::The shipping and handling costs depend on the country and the total value of the order. From 400 Euros you will even receive a a discount of 10% on the total of your order.Within Europe a letter takes between 2 - 5 working days and outside Europe usually between 5 - 10 days. But this all depends on the postal service in your country. Once the letter is in the mail we have absolutely no influence.

Shop

Shop

7,22 €
Netherlands
ACCEPTED PAYMENT:: BANK TRANSFER
DIRECTebanking
iDeal
BITCOIN
MAILING CASH

SHIPPING::We ship to all countries within the EU. We strive to offer you the lowest possible shipping rates. To offer you even further value, all orders of € 150,- or more are sent free of charge!

3 Fem. Seeds for 26,00 €

Shop

8,67 €
United Kingdom
ACCEPTED PAYMENT:: BANK TRANSFER
CREDIT CARD
BITCOIN
DIGITAL WIRE TRANSFER
CHECK OR CASH BY MAIL

SHIPPING::Please note we only offer tracked shipping to the follow countries: Andorra, Australia, Austria, Belgium, Brazil, Canada, Canary Islands, Croatia, Denmark, Estonia, Finland, France Germany, Hong Kong, Hungary, Iceland, India, Ireland, Latvia, Liechtenstein, Lithuania, Luxembourg, Malaysia, Malta, Netherlands, New Zealand, Poland, Portugal, Singapore, Spain, Sweden, Switzerland, United Kingdom and the USA. If you order your cannabis seeds to any country which is not on the above list, we will send it but cannot guarantee it's delivery, even if you select the "Guaranteed Delivery" product on checkout.

Shop

Shop

Shop

Shop

9,55 €
Spain
ACCEPTED PAYMENT:: CREDIT CARD

SHIPPING::We ship worldwide!

Shop

Shop

Shop

Shop

8,50 €
Austria
ACCEPTED PAYMENT:: BANK TRANSFER
CREDIT CARD
BITCOIN
WESTERN UNION

SHIPPING::All costs, the shipping and handling, as well as the costs of the moneytransaction and the customs duty, pay our customers. All goods will be delivered with the Austrian Post - if the amount is higher than EUR 100,-- we will send the order always insured. If the amount is under EUR 100,-- we send it regular but you have an option at the orderprocess where you can choose an insured delivery - this service costs EUR 2,85 extra. If you wish a Stealth-Delivery you can also choose this during the orderprocess - for this service we charge you EUR 5,50 extra. Stealth-Delivery means that we repack your seeds from the original breederspack into an other very discreet package. Orders of EUR 150,-- (€) or more we do not charge any shipping or handling fees. For return delivery and rejected delivery we have to charge you 10 % of the total amount!

Shop

Shop

Shop

Shop

7,40 €
United Kingdom
ACCEPTED PAYMENT:: PHONE
CREDIT CARD
MAILING CASH

SHIPPING::The Attitude' ships worldwide but we ask you to check your local law before ordering, as laws differ from country to country, state to state and by ordering, you are confirming that you are ok to do so.

Shop

Shop

Shop

Shop

8,72 €
Spain
ACCEPTED PAYMENT:: BANK TRANSFER
CREDIT CARD
MAILING CASH

SHIPPING::Check costs for your country on www.alchimiaweb.com/en/transportation.php

Shop

Shop

Shop

Shop

7,23 €
Last checked: April 6th, 2019 | Prices containing * are currency converted and may differ insignificantly from the price of the vendor.