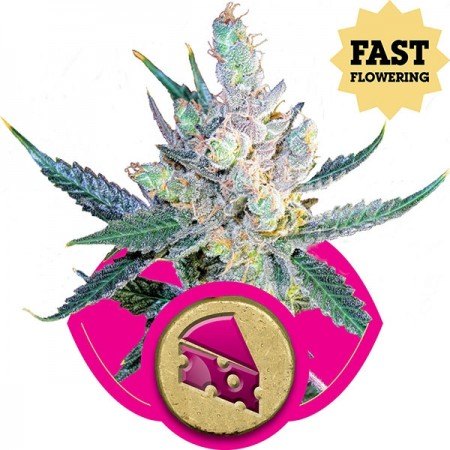 (Royal Queen Seeds: Royal Cheese)
HYBRID
Royal Queen Seeds:
Royal Cheese
Flowering Time: 50-60 days
Cheese is a legendary cannabis plant with origins based in the UK. This marijuana strain has its heritage from some original Skunk #1 that was rediscovered then developed by a dedicated crew of cannabis growers from London. Finally they gave birth to a skunk that was so stinky that there seemed no more fitting a name than Cheese.

Since then, the Cheese genetic has spread around the world, winning a Cannabis Cup and reaching near legendary status in the eyes of smokers while doing so. We got a hold of it, feminized it and are proud to present the Royal Cheese feminized seeds.

Royal Cheese Feminized will grow to about 1.5 metres indoors, but will stretch to over 2.5 metres out in the sun. This marijuana strain loves to drink and will grow big and strong as a result. The biggest issue encountered when growing Royal Cheese Feminized is the smell. This cannabis plant stinks so much that a carbon filter is almost essential for indoors, while everyone in the immediate radius will smell it outside.

Grown indoors, Royal Cheese will yield on average 60 grams per plant or 450-550 grams per square metre under a 600W light. Outdoors, this plant will tower above everything else and can yield over 600 grams in the correct climate (Spain, Italy, and California). It can be grown outdoors in northern Europe too, but will produce a lower quality buds than if grown indoors.

Our Royal Cheese feminized can be harvested 6-8 weeks after flowering to achieve the strongest flavour. Leaving it 2 weeks longer, 10 weeks, will give less flavour but will pack more of a punch with each puff or bong. Different growers enjoy different effects so it's up to you personally to experiment which is the right time for you; however, as a general rule, Cheese can be harvested at 6-8 weeks.

The smoke from Cheese is quite simply fantastic. Carrying such a strong, pungent aroma which follows through with a good flavour is one thing. But what makes this marijuana strain so enjoyable is the sheer strength of the stone that you get from every hit of the joint or bong. This combination of stinky smell and knockout stone has ensured that Cheese will be around for a long time to come.

Now with a Faster Flowering time than before!
Royal Queen Seeds: Royal Cheese
Shop
Country
Payment / Shipment
Offers

BPPS

Austria
ACCEPTED PAYMENT:: BANK TRANSFER
POSTCASH
TRANSFERWISE
MAILING CASH

SHIPPING::Two shipping options are currently available: • Shipment in original packaging gratis (if order is more than €100) • Shipment in original packaging €5.00 (if order is less than €100) • Shipment in discreet packaging gratis (if order is more than €100) • Shipment in discreet packaging €7.00 (if order is less than €100) (discreet packaging = seeds are repackaged and hidden) For deliveries to Switzerland only discreet packaging is available. Due to local laws we cannot deliver to some countries.

Shop

Shop

Shop

3,50 €
Austria
ACCEPTED PAYMENT:: BANK TRANSFER
CREDIT CARD
BITCOIN
WESTERN UNION

SHIPPING::All costs, the shipping and handling, as well as the costs of the moneytransaction and the customs duty, pay our customers. All goods will be delivered with the Austrian Post - if the amount is higher than EUR 100,-- we will send the order always insured. If the amount is under EUR 100,-- we send it regular but you have an option at the orderprocess where you can choose an insured delivery - this service costs EUR 2,85 extra. If you wish a Stealth-Delivery you can also choose this during the orderprocess - for this service we charge you EUR 5,50 extra. Stealth-Delivery means that we repack your seeds from the original breederspack into an other very discreet package. Orders of EUR 150,-- (€) or more we do not charge any shipping or handling fees. For return delivery and rejected delivery we have to charge you 10 % of the total amount!

Shop

Shop

Shop

Shop

4,79 €
United Kingdom
ACCEPTED PAYMENT:: BANK TRANSFER
CREDIT CARD
BITCOIN
MAILING CASH

SHIPPING::Do you ship to my country? Yes unless you are in North Korea or Brigadoon. All of our shipments are dispatched using trackable Royal Mail. Royal Mail First Class Recorded & Packaging £4.99 GBP (order £6.99 orders over £60) Royal Mail Airsure Traceable Service £9.99 GB Spend £100 GBP or More & Your Shipping is Free!

Shop

Shop

Shop

7,75 €
United Kingdom
ACCEPTED PAYMENT:: PHONE
CREDIT CARD
MAILING CASH

SHIPPING::The Attitude' ships worldwide but we ask you to check your local law before ordering, as laws differ from country to country, state to state and by ordering, you are confirming that you are ok to do so.

Shop

Shop

Shop

5,81 €
Last checked: April 6th, 2019 | Prices containing * are currency converted and may differ insignificantly from the price of the vendor.