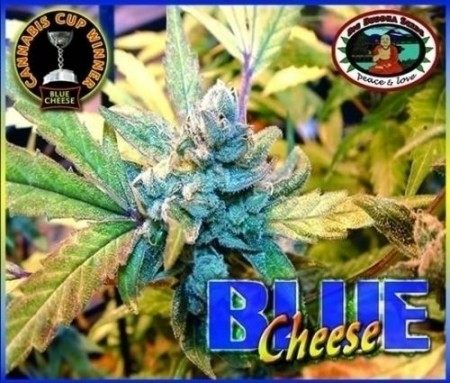 (Big Buddha: Blue Cheese)
HYBRID
Big Buddha:
Blue Cheese
Flowering Time: 70-80 days
If you are on the hunt for something fruity, this is absolutely the cannabis seed for you - Big Buddha Seeds have sourced the finest Blueberry males and crossed them with the original UK Cheese bringing you the award-winning Blue Cheese.

Characteristics of this 'berrilicious' strain include short, bushy plants with great yield and compact buds, along with that potent blueberry aroma that will knock your socks off.

The Blue Cheese strain has the best qualities from both of its parents as it is 75% indica and 25% sativa and gives the smoker a highly euphoric high with an exceptionally pleasant smoke.

Strain type: Sativa / Indica Hybrid (25% Blueberry 75% Cheese)
Parents:Blueberry x Cheese (male) X original UK Cheese (female)
Growing Info: Flowering time 8-10 weeks
Outdoors: End of Oct. start of Nov.
Sensory Experience: Highly euphoric, Very functional,
Smell: A Sweet, Fruity, Tarty, Berry scent, with that recognised musky undertone of the original cheese
Taste: Potent, Blueberry, Fresh taste
Big Buddha: Blue Cheese
Shop
Country
Payment / Shipment
Offers

BPPS

Netherlands
ACCEPTED PAYMENT:: BANK TRANSFER
DIRECTebanking
iDeal
BITCOIN
MAILING CASH

SHIPPING::We ship to all countries within the EU. We strive to offer you the lowest possible shipping rates. To offer you even further value, all orders of € 150,- or more are sent free of charge!

5 Fem. Seeds for 35,00 €

Shop

7,00 €
Netherlands
ACCEPTED PAYMENT:: BANK TRANSFER
CREDIT CARD
MAILING CASH
BITCOIN

SHIPPING::Kiwiland sells & ships Cannabis Seeds to the following countries: Andorra, Antigua and Barbuda, Aruba, Austria, Bahamas, Bahrain, Barbados, Belarus, Belgium, Belize, Bermuda, British Indian Ocean Territory, Canada, Canary islands, Cape Verde, Cayman Islands, Christmas Island, Cook Islands, Costa Rica, Croatia (Hrvatska), Cyprus, Czech Republic, Denmark, Dominica, Dominican Republic, Ecuador, Estonia, Falkland Islands (Malvinas), Faroe Islands, Fiji, France, French Polynesia, French Southern Territories, Georgia, Germany, Gibraltar, Greece, Greenland, Grenada, Guernsey, Hong Kong, Hungary, Iceland, Ireland, Italy, Japan, Jersey, Korea, Democratic Peoples Republic of, Korea, Republic of, Liechtenstein, Luxembourg, Macedonia, The Former Yugoslav Republic of, Malawi, Maldives, Malta, Marshall Island, Martinique, Mauritania, Mauritius, Micronesia, Federated States of, Monaco, Montenegro, Nauru, Netherlands, Netherlands Antilles, New Caledonia, Niue, Norfolk Island, Norway, Pacific Island Trust Territory, Palau, Panama, Poland, Portugal, Reunion, Saint LUCIA, Saint Vincent and the Grenadines, Samoa, San Marino, Serbia, Singapore, Slovakia (Slovak Republic), Solomon Islands, South Africa, Spain, Spanish north africa, Sweden, Switzerland, Tokelau, Tonga, Turkey, Tuvalu, United Kingdom, United States, Vanuatu. Usually we ship (Cannabis Seeds) orders within two working days.

10 Fem. Seeds for 70,00 €

Shop

7,00 €
United Kingdom
ACCEPTED PAYMENT:: BANK TRANSFER
CREDIT CARD
BITCOIN
MAILING CASH

SHIPPING::Do you ship to my country? Yes unless you are in North Korea or Brigadoon. All of our shipments are dispatched using trackable Royal Mail. Royal Mail First Class Recorded & Packaging £4.99 GBP (order £6.99 orders over £60) Royal Mail Airsure Traceable Service £9.99 GB Spend £100 GBP or More & Your Shipping is Free!

Shop

Shop

7,15 €
Austria
ACCEPTED PAYMENT:: BANK TRANSFER
CREDIT CARD
BITCOIN
WESTERN UNION

SHIPPING::All costs, the shipping and handling, as well as the costs of the moneytransaction and the customs duty, pay our customers. All goods will be delivered with the Austrian Post - if the amount is higher than EUR 100,-- we will send the order always insured. If the amount is under EUR 100,-- we send it regular but you have an option at the orderprocess where you can choose an insured delivery - this service costs EUR 2,85 extra. If you wish a Stealth-Delivery you can also choose this during the orderprocess - for this service we charge you EUR 5,50 extra. Stealth-Delivery means that we repack your seeds from the original breederspack into an other very discreet package. Orders of EUR 150,-- (€) or more we do not charge any shipping or handling fees. For return delivery and rejected delivery we have to charge you 10 % of the total amount!

10 Fem. Seeds for 58,29 €

Shop

5,83 €
United Kingdom
ACCEPTED PAYMENT:: PHONE
CREDIT CARD
MAILING CASH

SHIPPING::The Attitude' ships worldwide but we ask you to check your local law before ordering, as laws differ from country to country, state to state and by ordering, you are confirming that you are ok to do so.

Shop

Shop

Shop

6,39 €
Last checked: April 6th, 2019 | Prices containing * are currency converted and may differ insignificantly from the price of the vendor.