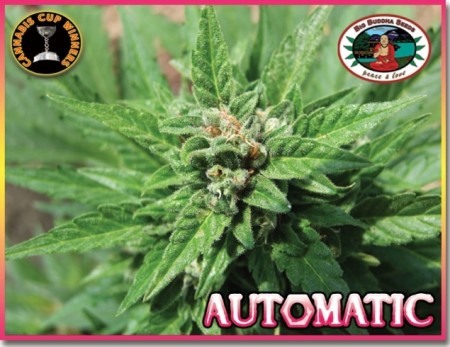 (Big Buddha: Automatic)
HYBRID
Big Buddha:
Automatic
Flowering Time: 70-80 days
Big Buddha Seeds dedication to the development of auto-flowering strains has been unwavering, looking to take blend both intense flavour and aroma to a greater stability and yield potential. As will all the great seed banks, these pioneers into advance genetics have, time and again, created fresh generations of amazing plants. The Big Buddha Automatic is definitely a show-stopper in this regard.

Designed to take the growth simplicity to a new level, these marijuana seeds are truly breath-taking in the power and strength they exude whilst outstripping the taste of the finest artisan hybrids. On top of these factors, the vitality results in outstandingly low-maintenance growers – a fact only emphasised by the cloning techniques that have created a dense branch structure on a shortened plant. There's no doubt that, in the words of Big Buddha, therse really are "throw and grow" seeds!
Big Buddha: Automatic
Shop
Country
Payment / Shipment
Offers

BPPS

Netherlands
ACCEPTED PAYMENT:: BANK TRANSFER
DIRECTebanking
iDeal
BITCOIN
MAILING CASH

SHIPPING::We ship to all countries within the EU. We strive to offer you the lowest possible shipping rates. To offer you even further value, all orders of € 150,- or more are sent free of charge!

5 Fem. Seeds for 35,00 €

Shop

7,00 €
United Kingdom
ACCEPTED PAYMENT:: PHONE
CREDIT CARD
MAILING CASH

SHIPPING::The Attitude' ships worldwide but we ask you to check your local law before ordering, as laws differ from country to country, state to state and by ordering, you are confirming that you are ok to do so.

1 Fem. Seed for 8,62 € *

Shop

8,62 €
Last checked: April 6th, 2019 | Prices containing * are currency converted and may differ insignificantly from the price of the vendor.