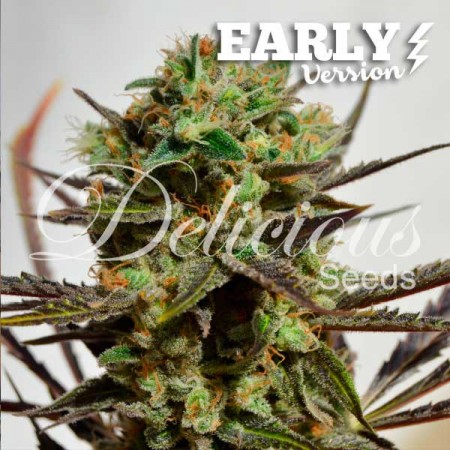 (Delicious: Delicious Candy Early Version)
INDICA
Delicious:
Delicious Candy Early Version
Flowering Time: 40-50 days
Delicious Candy Early Version (DS13)

To develop Delicious Candy (DS30), we crossed two of the best commercial genetics: Cheese, a unique female derived from SKUNK x KUSH which first appeared 1988-89 and which was cultivated somewhere in the "Chiltern Hills" by the squatter collective known as "Exodus" that was central to UK cannabis-related activity throughout the 90s.

Its other parent is our own Caramelo , which is a spectacular selection of the best exotic LAVENDER Indica and Sativa phenotypes (SUPER SKUNK – BIG SKUNK KOREAN – AFGHANI-HAWAIIAN).

The result is an explosive strain on a number of different levels. The plants produce large branches with a large quantity of lateral shoots laden with buds. The calyx/leaf ratio is very good, making it very easy to manicure as well as keeping the buds better ventilated than other indicas with more foliage which means that it's also more resistant to fungal diseases.

The buds are covered in thousands of large glandular trichomes filled with a unique sweet cheese fragrance. The taste has an acrid backnote, like yeast or cheese, with hints of liquorice and caramel.

Delicious Candy (DS30) will transport you to an initial euphoric state without being too cerebral which, as the minutes pass, will become very relaxing and pleasurable.

It's very suitable for prolonged medicinal usage as its effect will enable you to get stuff done during the day although it might be a bit too narcotic for nighttime use or for states of relaxation.

GENOTYPE 20% SATIVA - 80% INDICA
THC 22,4%
MATURATION(INTERIOR) EARLY VERSION - 45 DAYS
MATURATION(EXTERIOR) EARLY SEPTEMBER
FLAVOR SWEET
WAY OF CROPPING IND/OUT
PRODUCTION 550 G/M2 INDOOR | UP TO 1000 G/PL OUTDOOR
ODOR VERY HIGH
EFFECT NARCOTIC
RESISTANCE TO MOLD VERY HIGH
PEST RESISTANCE HIGH
SEX FEMINIZED
BHO PERFORMANCE 22%
IRRIGATION TOLERANCE MEDIUM
MEDICINAL VALUE VERY HIGH
Delicious: Delicious Candy Early Version
Shop
Country
Payment / Shipment
Offers

BPPS

Netherlands
ACCEPTED PAYMENT:: BANK TRANSFER
DIRECTebanking
iDeal
BITCOIN
MAILING CASH

SHIPPING::We ship to all countries within the EU. We strive to offer you the lowest possible shipping rates. To offer you even further value, all orders of € 150,- or more are sent free of charge!

3 Fem. Seeds for 21,00 €

Shop

7,00 €
United Kingdom
ACCEPTED PAYMENT:: BANK TRANSFER
CREDIT CARD
BITCOIN
DIGITAL WIRE TRANSFER
CHECK OR CASH BY MAIL

SHIPPING::Please note we only offer tracked shipping to the follow countries: Andorra, Australia, Austria, Belgium, Brazil, Canada, Canary Islands, Croatia, Denmark, Estonia, Finland, France Germany, Hong Kong, Hungary, Iceland, India, Ireland, Latvia, Liechtenstein, Lithuania, Luxembourg, Malaysia, Malta, Netherlands, New Zealand, Poland, Portugal, Singapore, Spain, Sweden, Switzerland, United Kingdom and the USA. If you order your cannabis seeds to any country which is not on the above list, we will send it but cannot guarantee it's delivery, even if you select the "Guaranteed Delivery" product on checkout.

Shop

Shop

Shop

8,15 €
Spain
ACCEPTED PAYMENT:: BANK TRANSFER
CREDIT CARD
MAILING CASH

SHIPPING::Check costs for your country on www.alchimiaweb.com/en/transportation.php

Shop

Shop

6,12 €
Last checked: April 6th, 2019 | Prices containing * are currency converted and may differ insignificantly from the price of the vendor.