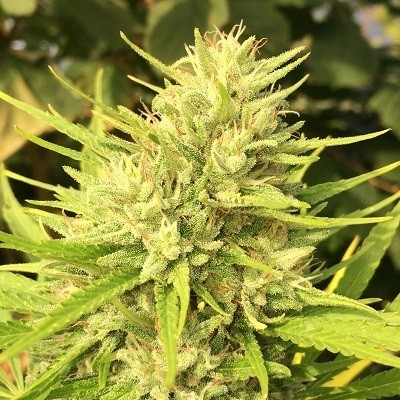 (ACE Seeds: Malawi x Panama)
SATIVA
ACE Seeds:
Malawi x Panama
Flowering Time: 80-90 days
Malawi and Panama are probably the 2 best and most highly worked sativas in our catalog.
Malawi x Panama is a a straight hybrid between the Old Malawi Killer, and the more refined Panama parental plants from latest generations, creating a 100% sativa F1 hybrid that combines excellent sativa genetics from Central Africa and America.

In this F1, Malawi dominates with its structure and character, producing vigorous and high yielding sativas, which bring to the limit the best floral qualities of the killer Malawis: ultra resinous plants with huge trichomes, of very dense, resinous flowers of overpowering effect, where Panama contributes to the hybrid with its elaborated and complex lemony and incensey terpene profile.

The effect is complex, trippy, crazy and introverted. Very deep and long lasting, both mentally and physically. Only for the harder and more experienced sativa travelers. Malawi x Panama produces consistently THC concentrations between 21 and 26%, and one of the most potent sativa alchemies.

Tipo F1 HYBRID
Format Feminized
Sativa / Indica ratio 100 % sativa
THC 21-26 %
CBD 0.2 %
CBG 1.1 %
Flowering indoors 11-12 weeks
Flowering outdoors End of October / Early November
Yield High
Resistance against spider mites Average-High
Resistance against powder mildew Average-High
Resistance against botrytis Average-High
Resistance against white fly Average-High
Resistance against cold Average-High
Resistance against heat High
Latitude 0º-43º
Genetics Old Malawi Killer crossed with our best Panama parental plants from latest generations.
Structure Pure sativa structure, vigorous and branchy, yet easy to handle, without excessive stretching.
Bouquet The Malawi resinous, oily, spicy and woody aromas dominate in this F1 hybrid, with lemony and incensey touches from Panama.
High Complex, trippy, introverted effect of overpowering strength. Very long lasting and deep, mentally and physically.
Terpene profile Complex and rich terpene profile in both monoterpenes and sesquiterpenes. It mainly contains the following monoterpenes: high amounts of alpha pinene (30%) and terpinolene (30%), moderate quantities of beta pinene (17 %), limonene (10 %) and beta myrcene (8 %), and smaller amounts of trans ocimene and delta 3 carene. Sesquiterpenes: Mainly beta caryophyllene (30 %) with smaller equitable amounts of guaiol, trans nerolidol and alpha humelene (12-15 % each).
ACE Seeds: Malawi x Panama
Shop
Country
Payment / Shipment
Offers

BPPS

Austria
ACCEPTED PAYMENT:: BANK TRANSFER
POSTCASH
TRANSFERWISE
MAILING CASH

SHIPPING::Two shipping options are currently available: • Shipment in original packaging gratis (if order is more than €100) • Shipment in original packaging €5.00 (if order is less than €100) • Shipment in discreet packaging gratis (if order is more than €100) • Shipment in discreet packaging €7.00 (if order is less than €100) (discreet packaging = seeds are repackaged and hidden) For deliveries to Switzerland only discreet packaging is available. Due to local laws we cannot deliver to some countries.

5 Fem. Seeds for 25,00 €

Shop

5,00 €
United Kingdom
ACCEPTED PAYMENT:: BANK TRANSFER
MAILING CASH
CREDIT CARD
BITCOIN

SHIPPING::Our expert team sends packages worldwide every day. We use discreet stealth packaging and have a very good track record of sending seeds to every country.

Shop

Shop

Shop

Shop

5,08 €
Last checked: April 6th, 2019 | Prices containing * are currency converted and may differ insignificantly from the price of the vendor.