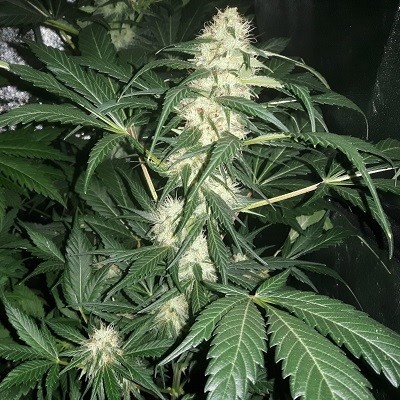 (ACE Seeds: Black Domina 98 x ErdPurt)
SATIVA
ACE Seeds:
Black Domina 98 x ErdPurt
Flowering Time: 60-70 days
Black Domina 98 x ErdPurt is an Afghani hybrid of two superior strains. The Black Domina 98 has won numerous cannabis awards while ErdPurt has been the basis of many hash-plant lines. It is a compact plant with long, contiguous, rock-hard colas which make excellent extracts including hash.

Black Domina 98 x Erdpurt is 90% indica and is an excellent plant for outdoor cultivation up to 45° of latitude although it can also be grown indoors as well. It is a strong and vigorous strain which stretches little during flowering allowing indoor growers to veg. until the plants are close to the required finishing size if so desired. The flowering time indoors is 8 - 9 weeks and it is ideally suited to Sea of Green (SoG) grows in this environment which will imply shorter periods of vegetative growth for columnar growth.
ACE Seeds: Black Domina 98 x ErdPurt
Shop
Country
Payment / Shipment
Offers

BPPS

Austria
ACCEPTED PAYMENT:: BANK TRANSFER
POSTCASH
TRANSFERWISE
MAILING CASH

SHIPPING::Two shipping options are currently available: • Shipment in original packaging gratis (if order is more than €100) • Shipment in original packaging €5.00 (if order is less than €100) • Shipment in discreet packaging gratis (if order is more than €100) • Shipment in discreet packaging €7.00 (if order is less than €100) (discreet packaging = seeds are repackaged and hidden) For deliveries to Switzerland only discreet packaging is available. Due to local laws we cannot deliver to some countries.

5 Fem. Seeds for 25,00 €

Shop

5,00 €
Last checked: April 6th, 2019