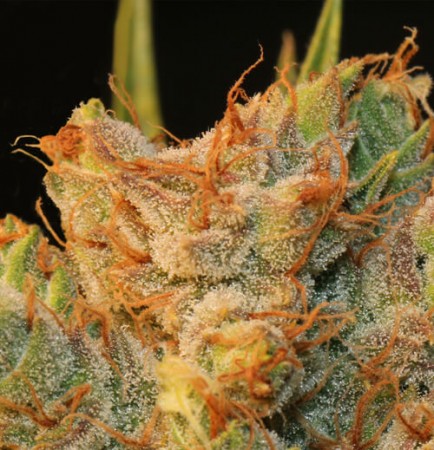 (T.H.Seeds: MK-Ultra Bubble)
HYBRID
T.H.Seeds:
MK-Ultra Bubble
Flowering Time: 60-70 days
MK Ultra Kush x Bubble by T.H. Seeds is an exotic combination between a robust, sturdy MK Ultra Kush and a sweet, high-yielding Bubblegum. The resulting plant is deliciously sweet and highly resinous. It grows to an average height, generally without many branches, yielding intensely compact buds.

Indoors it does pretty well, especially when it gets plenty of root space in order to grow its delicious Bubble buds with an MK Ultra Kush density. It doesn't feed too much, so make sure that you don't go overboard with fertilizers or it'll soon start showing signs of excess nutrients. You can harvest up to 600g with 10 plants per square meter after just 70 flowering days.

Outdoors it grows slim and balanced – it stops growing during the flowering period in order to focus all of its energy on growing buds, making for the perfect hybrid structure. It has an average distance between nodes, allowing the buds and flowers to absorb as much light as possible, which in turn increases final yield. Towards the first week in October you can expect around 800g per plant under the right conditions.

It has an intense Bubblegum flavor, making it sweeter and creamier when smoked. Its high is entirely Kush and medicinal – you'll feel super relaxed thanks to its strong physical high. This delicious plant is highly recommended for all growers.

Sativa/Indica: 40/60%
Flowering: 60-70 days indoors, beginning of October outdoors.
Height: 0.7-1m indoors, 1.1-2m outdoors.
T.H.Seeds: MK-Ultra Bubble
Shop
Country
Payment / Shipment
Offers

BPPS

Austria
ACCEPTED PAYMENT:: BANK TRANSFER
POSTCASH
TRANSFERWISE
MAILING CASH

SHIPPING::Two shipping options are currently available: • Shipment in original packaging gratis (if order is more than €100) • Shipment in original packaging €5.00 (if order is less than €100) • Shipment in discreet packaging gratis (if order is more than €100) • Shipment in discreet packaging €7.00 (if order is less than €100) (discreet packaging = seeds are repackaged and hidden) For deliveries to Switzerland only discreet packaging is available. Due to local laws we cannot deliver to some countries.

5 Fem. Seeds for 50,00 €

Shop

10,00 €
Last checked: April 6th, 2019