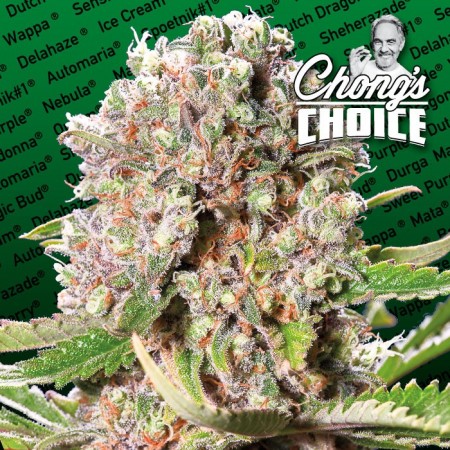 (Paradise Seeds: Mendocino Skunk)
HYBRID
Paradise Seeds:
Mendocino Skunk
Flowering Time: 50-60 days
Choice of Legends (Hybrid)… Mendocino Skunk, developed in collaboration with Chong's Choice, is a well rounded combination of sativa and indica to produce a good yield plant that is easy to grow and delivers a delightful user experience.

The Mendocino Skunk is inspired by a meeting of great cannabis traditions from California's Emerald Triangle and Holland's Amsterdam coffeeshop scene. Mendocino county sits on California's north coast and its name has been associated with great weed since the 1960s. The perfect climate and a community knowledge base has made it a breeding ground for quality cannabis.

For this exciting hybrid project we chose to combine the essence of Mendocino with the best Dutch genetics from the Paradise Seeds vault and we are very pleased with the results. This plant is shorter and bushier than many varieties which makes it a good option for the beginner, although experienced growers will appreciate the ease of growth and pleasant all round qualities.

A good addition to the indoor grow setup, Mendocino Skunk is a stable plant that will grow to a medium size so a good option if your grow room space is limited. With a thick central cola, the side branches of this plant will provide good bud growth and the calyx-to-leaf ratio makes for a speedy trim job once harvest comes.

This plant will also thrive in outdoor grow spaces, providing a happy experience for growers in northern regions of Europe, Canada and America thanks to the Mendocino factor in the Skunk mix. In warmer, more Mediterranean climates, there is potential to boost optimum yield levels as this is a plant that will respond well in the sunshine.

The fruity flavor and skunky tones will have your taste buds tingling for more and is an indication of the pleasurable hit that is coming your way. The effect, as you may expect from its hybrid nature, is well balanced and smooth. 'Uplifting' is a characteristic that has been used to describe Mendocino Skunk, with a positive high and a sense of well being that will brighten up the day.

Mendocino Skunk also comes with properties that will appeal to medical patients thanks to its hybrid composition. The indica brings a relaxation effect while the sativa characteristic energizes the mind allowing the user to focus on everyday tasks.
Paradise Seeds: Mendocino Skunk
Shop
Country
Payment / Shipment
Offers

BPPS

Austria
ACCEPTED PAYMENT:: BANK TRANSFER
POSTCASH
TRANSFERWISE
MAILING CASH

SHIPPING::Two shipping options are currently available: • Shipment in original packaging gratis (if order is more than €100) • Shipment in original packaging €5.00 (if order is less than €100) • Shipment in discreet packaging gratis (if order is more than €100) • Shipment in discreet packaging €7.00 (if order is less than €100) (discreet packaging = seeds are repackaged and hidden) For deliveries to Switzerland only discreet packaging is available. Due to local laws we cannot deliver to some countries.

10 Reg. Seeds for 75,00 €

Shop

7,50 €
Spain
ACCEPTED PAYMENT:: BANK TRANSFER
MAILING CASH
BITCOIN

SHIPPING::The shipping and handling costs depend on the country and the total value of the order. From 400 Euros you will even receive a a discount of 10% on the total of your order.Within Europe a letter takes between 2 - 5 working days and outside Europe usually between 5 - 10 days. But this all depends on the postal service in your country. Once the letter is in the mail we have absolutely no influence.

Shop

Shop

6,72 €
United Kingdom
ACCEPTED PAYMENT:: BANK TRANSFER
MAILING CASH
CREDIT CARD
BITCOIN

SHIPPING::Our expert team sends packages worldwide every day. We use discreet stealth packaging and have a very good track record of sending seeds to every country.

Shop

Shop

Shop

7,92 €
Netherlands
ACCEPTED PAYMENT:: BANK TRANSFER
DIRECTebanking
iDeal
BITCOIN
MAILING CASH

SHIPPING::We ship to all countries within the EU. We strive to offer you the lowest possible shipping rates. To offer you even further value, all orders of € 150,- or more are sent free of charge!

3 Fem. Seeds for 26,00 €

Shop

8,67 €
Last checked: April 6th, 2019 | Prices containing * are currency converted and may differ insignificantly from the price of the vendor.