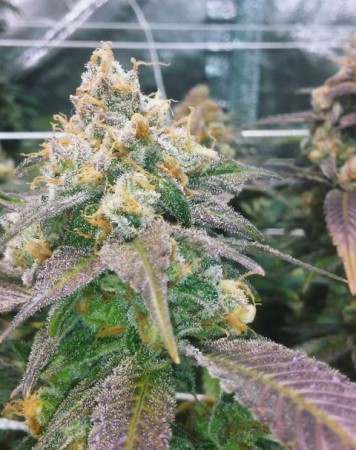 (Female Seeds: Dream Berry)
SATIVA
Female Seeds:
Dream Berry
Flowering Time: 60-70 days
Genetic lineage: (Blueberry x Haze) x Nev Haze x Blueberry Cheesecake
Indoor flowering time: 9-10 weeks
Outdoor harvest: Yes. See map for suitable outdoor zones worldwide and corresponding harvest periods
Height: Indoor: 80-150 cm | Outdoor: 2-4 meters
Yield: Indoor: 200-400 g/m² | Outdoor: 200-1500 g/plant
Yield: sweet and soft like Blueberry, with some woody Haze and herbal undertones
Effect: Highly creative, energetic and uplifting high, the day companion you always dreamed of!

Female Seeds' motto is "so easy", and when you grow this new Sativa Dominant hybrid, the Dream Berry - you'll know why.

The Dream Berry strain can from a stabilized Blue Dream clone mom, with a Blueberry-dominant Blueberry Cheesecake pheno. This hybrid is going to be your new daytime companion because of its highly creative, energetic and uplifting cerebral high combined with a smooth, relaxing body high. Our Dream Berry strain makes anyone talkative and can definitely be described as a social smoke. Dream Berry relaxes and relieves pain symptoms, nausea and alleviates depression.

Plants from our Dream Berry feminized seeds produces medium-sized to large buds. Dream Berry develops predominantly rock-hard nugs with buds on the lower branches being fluffier. When cured well, she will have enormous bag appeal. The Dream Berry plant is relatively short and compact with many leaves and wide lateral branches. Leaves are mostly dark green. However, one phenotype has a faint blue shine on her leaves whilst another has an almost dark purplish complexion, thanks to her Blueberry origins. Another important detail to mention is the noticeable abundance of long, thick pistils.

The smell is reminiscent of the blueberry because of her sweetness and because of the subtle berries tones. In conclusion, the smell is complex and with interesting pine/herbal sour notes thanks to her Haze ancestors.
Female Seeds: Dream Berry
Shop
Country
Payment / Shipment
Offers

BPPS

Austria
ACCEPTED PAYMENT:: BANK TRANSFER
POSTCASH
TRANSFERWISE
MAILING CASH

SHIPPING::Two shipping options are currently available: • Shipment in original packaging gratis (if order is more than €100) • Shipment in original packaging €5.00 (if order is less than €100) • Shipment in discreet packaging gratis (if order is more than €100) • Shipment in discreet packaging €7.00 (if order is less than €100) (discreet packaging = seeds are repackaged and hidden) For deliveries to Switzerland only discreet packaging is available. Due to local laws we cannot deliver to some countries.

Shop

Shop

7,65 €
Spain
ACCEPTED PAYMENT:: BANK TRANSFER
MAILING CASH
BITCOIN

SHIPPING::The shipping and handling costs depend on the country and the total value of the order. From 400 Euros you will even receive a a discount of 10% on the total of your order.Within Europe a letter takes between 2 - 5 working days and outside Europe usually between 5 - 10 days. But this all depends on the postal service in your country. Once the letter is in the mail we have absolutely no influence.

Shop

Shop

6,50 €
Netherlands
ACCEPTED PAYMENT:: BANK TRANSFER
DIRECTebanking
iDeal
BITCOIN
MAILING CASH

SHIPPING::We ship to all countries within the EU. We strive to offer you the lowest possible shipping rates. To offer you even further value, all orders of € 150,- or more are sent free of charge!

4 Fem. Seeds for 32,00 €

Shop

8,00 €
Spain
ACCEPTED PAYMENT:: BANK TRANSFER
CREDIT CARD
MAILING CASH

SHIPPING::Check costs for your country on www.alchimiaweb.com/en/transportation.php

Shop

Shop

6,50 €
Last checked: April 6th, 2019