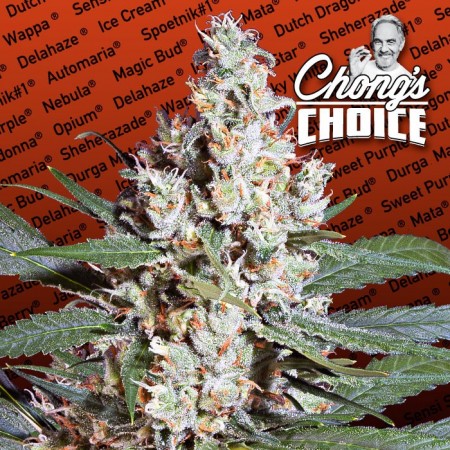 (Paradise Seeds: L.A. Amnesia)
SATIVA
Paradise Seeds:
L.A. Amnesia
Flowering Time: 60-70 days
Choice of Legends (Sativa)… L.A. Amnesia is a potent, high yield sativa with a revived up THC count, the result of a collaboration between the legendary growers of Paradise Seeds and legendary cannabist, Tommy Chong for his new company Chong's Choice.

We were looking for a very special sativa to bring to the exclusive Chong's Choice line and this is definitely it! L.A. Amnesia combines the genetics of the world famous Dutch strain, Amnesia Haze, with a highly potent Kush variety. Named after Los Angeles, this heavenly strain is a perfect match for the City of Angels!

Amnesia is a fruity energetic strain, with a genetic code that has its roots in Jamaica and South Asia, and needs little introduction for experienced cannabis heads. Meanwhile, the Kush in this combination is our own twist on the popular variety, carrying Dutch genes that give this classic a real turbo boost.

For an indoor grow room, L.A. Amnesia is a great choice and is a good plant for beginners as well as old pros. Although it is a sativa, the Kush element ensures it does not stretch so much as other varieties and the plant produces thick central colas with very big buds and a high calyx-to-leaf ratio. The trichome coating is so heavy that these buds sparkle like magic crystals.

In an outdoor setup, L.A. Amnesia will also do well. In southern regions where there is ample warmth and light, it will respond by shooting for the sun and will reward the grower with a big bud harvest. It will also grow reasonably in more northern regions of Eurasia and the Americas, although the dense oversized buds do need checking for mold in Autumn.

With this strain, the grower is treated to the best of both worlds. It has a distinctive citrus/earthy/hazey taste, full of terpenes that will be popular with the connoisseur, while the extraordinary power will impress those who relish a smoke that hits home hard. With a 20-24% THC count, potency is the name of the game, and this plant comes with an intense high that will energize the head and impound the body!

L.A. Amnesia will enthuse recreational sativa aficionados and its all round qualities will bring pain relief and stimulate appetite for medical users.
Paradise Seeds: L.A. Amnesia
Shop
Country
Payment / Shipment
Offers

BPPS

Austria
ACCEPTED PAYMENT:: BANK TRANSFER
POSTCASH
TRANSFERWISE
MAILING CASH

SHIPPING::Two shipping options are currently available: • Shipment in original packaging gratis (if order is more than €100) • Shipment in original packaging €5.00 (if order is less than €100) • Shipment in discreet packaging gratis (if order is more than €100) • Shipment in discreet packaging €7.00 (if order is less than €100) (discreet packaging = seeds are repackaged and hidden) For deliveries to Switzerland only discreet packaging is available. Due to local laws we cannot deliver to some countries.

10 Fem. Seeds for 75,00 €

Shop

7,50 €
Spain
ACCEPTED PAYMENT:: BANK TRANSFER
MAILING CASH
BITCOIN

SHIPPING::The shipping and handling costs depend on the country and the total value of the order. From 400 Euros you will even receive a a discount of 10% on the total of your order.Within Europe a letter takes between 2 - 5 working days and outside Europe usually between 5 - 10 days. But this all depends on the postal service in your country. Once the letter is in the mail we have absolutely no influence.

Shop

Shop

6,72 €
United Kingdom
ACCEPTED PAYMENT:: BANK TRANSFER
MAILING CASH
CREDIT CARD
BITCOIN

SHIPPING::Our expert team sends packages worldwide every day. We use discreet stealth packaging and have a very good track record of sending seeds to every country.

10 Fem. Seeds for 79,17 € *

Shop

7,92 €
Netherlands
ACCEPTED PAYMENT:: BANK TRANSFER
DIRECTebanking
iDeal
BITCOIN
MAILING CASH

SHIPPING::We ship to all countries within the EU. We strive to offer you the lowest possible shipping rates. To offer you even further value, all orders of € 150,- or more are sent free of charge!

3 Fem. Seeds for 26,00 €

Shop

8,67 €
Last checked: April 6th, 2019 | Prices containing * are currency converted and may differ insignificantly from the price of the vendor.