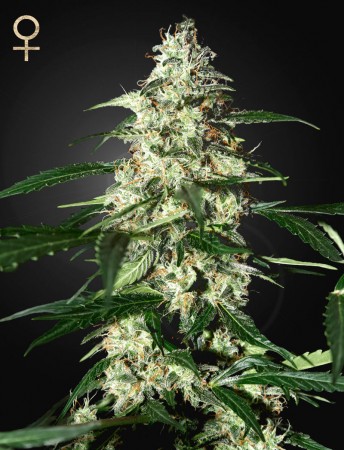 (Green House Seed Co.: Skunk Auto)
HYBRID
Green House Seed Co.:
Skunk Auto
Flowering Time: 60-70 days
The Skunk Autoflowering is an old-school Skunk crossed with a pure Ruderalis from Kazakstan.
The result is an outstandingly performing autoflowering, with extreme vigour and great production up to 80-100 grams of dried material per plant.
The structure of the Skunk Autoflowering is branchy, withmedium to large internodes.
It is a medium-tall autoflowering, and it performs best when the plantsare allowed to reach 90-120 cm of height.
The Skunk Autoflowering stretches fast during the first two weeks of growth, developing strong branches and lush foliage.
The leaves are dark green, thick, with overlapping leaflets.
The Skunk Autoflowering is ready in 9 weeks total crop time, with a flowering time of approximately 7 weeks.
The aroma and flavor are very intense with a dominant earthy smell and a caramelized background.
All the intense notes present in the aroma are translating very well after combustion.
The Skunk Autoflowering can take high EC levels, up to 2.0 during flowering.
The plant is very robust, and does not suffer hot temperatures up to 30 degrees Celsius.
The buds are slow to form during the first weeks of flowering, but develop very rapidly during the last few weeks,
allowing growers to chose the ripeness of their harvest within a short time period at the end of the crop.
The effect is fast hitting, intense, with a cerebral high followed by a mellow but long-lasting bodystoned side.
The complexity of the effect is very similar to the original Skunk.
The medicinal effects of this strain are still to be evaluated.
Green House Seed Co.: Skunk Auto
Shop
Country
Payment / Shipment
Offers

BPPS

United Kingdom
ACCEPTED PAYMENT:: BANK TRANSFER
CREDIT CARD
BITCOIN
DIGITAL WIRE TRANSFER
CHECK OR CASH BY MAIL

SHIPPING::Please note we only offer tracked shipping to the follow countries: Andorra, Australia, Austria, Belgium, Brazil, Canada, Canary Islands, Croatia, Denmark, Estonia, Finland, France Germany, Hong Kong, Hungary, Iceland, India, Ireland, Latvia, Liechtenstein, Lithuania, Luxembourg, Malaysia, Malta, Netherlands, New Zealand, Poland, Portugal, Singapore, Spain, Sweden, Switzerland, United Kingdom and the USA. If you order your cannabis seeds to any country which is not on the above list, we will send it but cannot guarantee it's delivery, even if you select the "Guaranteed Delivery" product on checkout.

Shop

Shop

Shop

6,29 €
Last checked: April 6th, 2019 | Prices containing * are currency converted and may differ insignificantly from the price of the vendor.