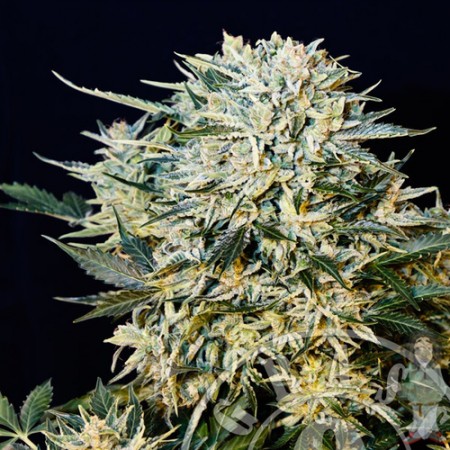 (Grass-O-Matic: Sugar Gom)
HYBRID
Grass-O-Matic:
Sugar Gom
Flowering Time: 70-80 days
New autoflowering strain, exceptionally resinous, obtained by crossing our most productive Auto AK with a particular phenotype of brasilian sativa. A medium to big size plant with strong structure, nice ramification and with few leaves. The flowers on side branches, even the lower ones, are hard and heavy like the main cola and all are completely covered with balsamic "sugar". An excellent plant for resin extraction. Despite there is a strong sativa trait, it still acts like and indica, and it's ready for harvest in only 65 days. However, a few days more will be rewarded with a further weight increase. During flowering it has a moderate scent so quite descreet. The flowers when harvested have a dominant fragrance of sandal and citrus but after a good curing they will surprise you with a pleasant toasted coffee, hazelnut and musk scent. Very sweet to the palate.

Genetics: Brasilian Sativa x Auto AK
Height: 50-120 cm.
Flowering: automatic on the forth week
Harvest: within 75 days from germination
Yield: 40-100 gr. per plant
Grass-O-Matic: Sugar Gom
Shop
Country
Payment / Shipment
Offers

BPPS

Austria
ACCEPTED PAYMENT:: BANK TRANSFER
POSTCASH
TRANSFERWISE
MAILING CASH

SHIPPING::Two shipping options are currently available: • Shipment in original packaging gratis (if order is more than €100) • Shipment in original packaging €5.00 (if order is less than €100) • Shipment in discreet packaging gratis (if order is more than €100) • Shipment in discreet packaging €7.00 (if order is less than €100) (discreet packaging = seeds are repackaged and hidden) For deliveries to Switzerland only discreet packaging is available. Due to local laws we cannot deliver to some countries.

Shop

Shop

8,00 €
Spain
ACCEPTED PAYMENT:: BANK TRANSFER
MAILING CASH
BITCOIN

SHIPPING::The shipping and handling costs depend on the country and the total value of the order. From 400 Euros you will even receive a a discount of 10% on the total of your order.Within Europe a letter takes between 2 - 5 working days and outside Europe usually between 5 - 10 days. But this all depends on the postal service in your country. Once the letter is in the mail we have absolutely no influence.

Shop

Shop

6,80 €
Netherlands
ACCEPTED PAYMENT:: BANK TRANSFER
DIRECTebanking
iDeal
BITCOIN
MAILING CASH

SHIPPING::We ship to all countries within the EU. We strive to offer you the lowest possible shipping rates. To offer you even further value, all orders of € 150,- or more are sent free of charge!

3 Fem. Seeds for 22,50 €

Shop

7,50 €
Austria
ACCEPTED PAYMENT:: BANK TRANSFER
CREDIT CARD
BITCOIN
WESTERN UNION

SHIPPING::All costs, the shipping and handling, as well as the costs of the moneytransaction and the customs duty, pay our customers. All goods will be delivered with the Austrian Post - if the amount is higher than EUR 100,-- we will send the order always insured. If the amount is under EUR 100,-- we send it regular but you have an option at the orderprocess where you can choose an insured delivery - this service costs EUR 2,85 extra. If you wish a Stealth-Delivery you can also choose this during the orderprocess - for this service we charge you EUR 5,50 extra. Stealth-Delivery means that we repack your seeds from the original breederspack into an other very discreet package. Orders of EUR 150,-- (€) or more we do not charge any shipping or handling fees. For return delivery and rejected delivery we have to charge you 10 % of the total amount!

3 Fem. Seeds for 20,01 €

Shop

6,67 €
United Kingdom
ACCEPTED PAYMENT:: PHONE
CREDIT CARD
MAILING CASH

SHIPPING::The Attitude' ships worldwide but we ask you to check your local law before ordering, as laws differ from country to country, state to state and by ordering, you are confirming that you are ok to do so.

3 Fem. Seeds for 22,08 € *

Shop

7,36 €
Last checked: April 6th, 2019 | Prices containing * are currency converted and may differ insignificantly from the price of the vendor.