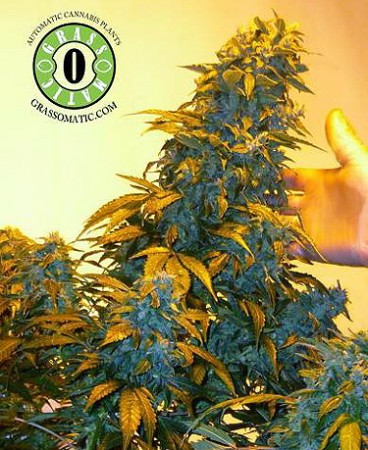 (Grass-O-Matic: Automatic AK-47)
HYBRID
Grass-O-Matic:
Automatic AK-47
Flowering Time: 70-80 days
Feminized version of the new (100% auto-flowering) hybrid made by crossing the infamous AK47 from Serious Seeds with Lowryder, created by the Joint Doctor. It is a successful combination between the excellent characteristics of the AK47 (one of the most popular and prize awarded strains) and the extremely ease and fast maturation of the Lowryder. It is the greatest and most powerful plant that is 100% automatic available on the market today, and can be used therapeutically, where legal to grow. It will grow to an average height of around 50-60 cm in most conditions. After the first phase of growth of approximately 2-3 weeks, the plant quickly goes to flowering stage, developing great compact buds covered from a diamond veil of resin and with a sweet and very intense aroma. Automatic AK47 flowers within 70-75 days from seed, reaches its optimal size if given enough light. The ideal light cycle is in fact of 20 hours of light and 4 of darkness during the whole life of the plant. Outdoors the best time is May-August, but it is possible to do multiple cycles up to November.

Type: Feminized auto-flowering hybrid
Height: 50-70 cm.
Flowering: automatic within 3 weeks
Location: Indoors.Outdoors
Yield: 20 – 50 gr./plant
Pot: 5-12 Lt.
Grass-O-Matic: Automatic AK-47
Shop
Country
Payment / Shipment
Offers

BPPS

United Kingdom
ACCEPTED PAYMENT:: BANK TRANSFER
CREDIT CARD
MAILING CASH
PHONE

SHIPPING::Herbies Seeds ship worldwide but we ask you to check your local law before ordering, as laws differ from country to country, state to state and by ordering, you are confirming that you are ok to do so.

Shop

Shop

Shop

Shop

Shop

Shop

Shop

Shop

7,76 €
Austria
ACCEPTED PAYMENT:: BANK TRANSFER
CREDIT CARD
BITCOIN
WESTERN UNION

SHIPPING::All costs, the shipping and handling, as well as the costs of the moneytransaction and the customs duty, pay our customers. All goods will be delivered with the Austrian Post - if the amount is higher than EUR 100,-- we will send the order always insured. If the amount is under EUR 100,-- we send it regular but you have an option at the orderprocess where you can choose an insured delivery - this service costs EUR 2,85 extra. If you wish a Stealth-Delivery you can also choose this during the orderprocess - for this service we charge you EUR 5,50 extra. Stealth-Delivery means that we repack your seeds from the original breederspack into an other very discreet package. Orders of EUR 150,-- (€) or more we do not charge any shipping or handling fees. For return delivery and rejected delivery we have to charge you 10 % of the total amount!

Shop

Shop

6,53 €
Last checked: April 6th, 2019