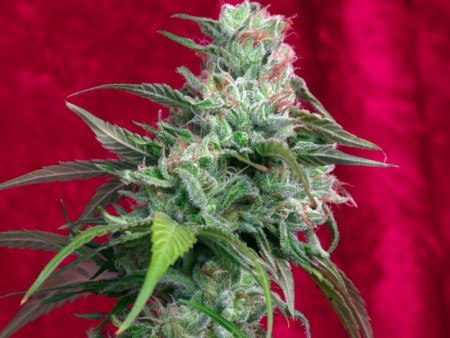 (Reggae Seeds: Juanita la Lagrimosa)
SATIVA
Reggae Seeds:
Juanita la Lagrimosa
Flowering Time: 60-70 days
Here it is, a feminized version of our beloved Juanita la Lagrimosa (Tearful Jane, in English)
From a cross of an Mexican/Afghan with a Reina Madre, Juanite la lagrimosa was born, a plant which we are sure will impress you.
A predominantly sativa plant, high yielding and with the relativly short flowering time of 60/65 days indoor or the first 15 days of october outdoors.
A plant that smells of lemon haze has a pallet of fruity hashish and a hash/haze smoke that will not stop supprising you, it will remind you of so many things that the only thing you are sure of is that you do not want anyone to take your treasure. It has a very clean cerebal high, high, high, that will keep you thinking, talking and moving, very sociable but not very good for relaxing.
Reggae Seeds: Juanita la Lagrimosa
Shop
Country
Payment / Shipment
Offers

BPPS

Spain
ACCEPTED PAYMENT:: BANK TRANSFER
MAILING CASH
BITCOIN

SHIPPING::The shipping and handling costs depend on the country and the total value of the order. From 400 Euros you will even receive a a discount of 10% on the total of your order.Within Europe a letter takes between 2 - 5 working days and outside Europe usually between 5 - 10 days. But this all depends on the postal service in your country. Once the letter is in the mail we have absolutely no influence.

Shop

Shop

12,00 €
Austria
ACCEPTED PAYMENT:: BANK TRANSFER
CREDIT CARD
BITCOIN
WESTERN UNION

SHIPPING::All costs, the shipping and handling, as well as the costs of the moneytransaction and the customs duty, pay our customers. All goods will be delivered with the Austrian Post - if the amount is higher than EUR 100,-- we will send the order always insured. If the amount is under EUR 100,-- we send it regular but you have an option at the orderprocess where you can choose an insured delivery - this service costs EUR 2,85 extra. If you wish a Stealth-Delivery you can also choose this during the orderprocess - for this service we charge you EUR 5,50 extra. Stealth-Delivery means that we repack your seeds from the original breederspack into an other very discreet package. Orders of EUR 150,-- (€) or more we do not charge any shipping or handling fees. For return delivery and rejected delivery we have to charge you 10 % of the total amount!

Shop

Shop

Shop

10,44 €
Last checked: April 6th, 2019