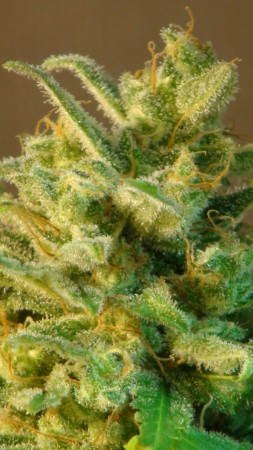 (Kannabia: Mataro Blue Max Auto)
HYBRID
Kannabia:
Mataro Blue Max Auto
Flowering Time: 60-70 days
Genetic:
Mataro Blue x Rudelaris
Indica/Sativa %:
75/35
This is the variety that gives the best results, outdoors and indoors, easily growing over 1 metre high in both circumstances.

It forms large tails with very compact flowers. It also encourages the growth of lower branches, which may produce a few grams of dry bud. The higher THC levels are very evident, resulting in an increase of the psychoactivity and a very cerebral high.

Subject to low temperatures, the colours change from bluish to purple.

This is quite a willful plant, so the stock is always limited.
Kannabia: Mataro Blue Max Auto
Shop
Country
Payment / Shipment
Offers

BPPS

Austria
ACCEPTED PAYMENT:: BANK TRANSFER
CREDIT CARD
BITCOIN
WESTERN UNION

SHIPPING::All costs, the shipping and handling, as well as the costs of the moneytransaction and the customs duty, pay our customers. All goods will be delivered with the Austrian Post - if the amount is higher than EUR 100,-- we will send the order always insured. If the amount is under EUR 100,-- we send it regular but you have an option at the orderprocess where you can choose an insured delivery - this service costs EUR 2,85 extra. If you wish a Stealth-Delivery you can also choose this during the orderprocess - for this service we charge you EUR 5,50 extra. Stealth-Delivery means that we repack your seeds from the original breederspack into an other very discreet package. Orders of EUR 150,-- (€) or more we do not charge any shipping or handling fees. For return delivery and rejected delivery we have to charge you 10 % of the total amount!

5 Fem. Seeds for 25,23 €

Shop

5,05 €
Last checked: April 6th, 2019