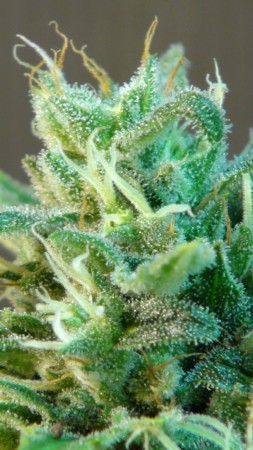 (Kannabia: Kannabia Special Max Auto)
INDICA
Kannabia:
Kannabia Special Max Auto
Flowering Time: 60-70 days
As Kannabia Special is one of our varieties with the highest indica component is most to the fore, this cross is characterised by firm, heavy central bud structures ranging from 35cm to 55cm. The flower production is very compact, although scant. The plant tends to stretch out, with large gaps between nodes.

Since the autoflowering characteristics are less evident, you may have to wait more than three months to harvest outdoors. The plant withstands extreme temperatures and dry periods well. The buds are improved by the cross's higher amount of resin.

One of the characteristics most highly valued by growers of this variety's parent plant (Kannabia Special) is its bushy Skunk phenotype. Our goal was to achieve a rudelaris variety with optimal yield and branching towards the base of the plant. The result is a "bushy"-type autoflowering vari-ety favouring the production of large lower branches with small but dense buds at the tips. To op-timise this development you will have to nurture the plant with great care during the first few weeks of growth, ensuring it has the appropriate food, container and light conditions.

Outdoors the plant may not grow higher than 1 metre, although this is offset by the outward growth and broad perimeter it occupies in the growing area. It maintains a fresh fruit aroma with a strong Skunk after-aroma. Although the yield is not especially large, the quality is very high, reaching 55-65 grams per plant outdoors and 15-25 grams indoors.

From seed, the indoor cycle with a photoperiod of 12/12 or 14/10 is 8-9 weeks for optimal ripen-ing.

Outdoor flowering cycle: 3 months. Planting in early spring recommended.
Kannabia: Kannabia Special Max Auto
Shop
Country
Payment / Shipment
Offers

BPPS

United Kingdom
ACCEPTED PAYMENT:: PHONE
CREDIT CARD
MAILING CASH

SHIPPING::The Attitude' ships worldwide but we ask you to check your local law before ordering, as laws differ from country to country, state to state and by ordering, you are confirming that you are ok to do so.

1 Fem. Seed for 7,22 € *

Shop

7,22 €
Last checked: April 6th, 2019 | Prices containing * are currency converted and may differ insignificantly from the price of the vendor.