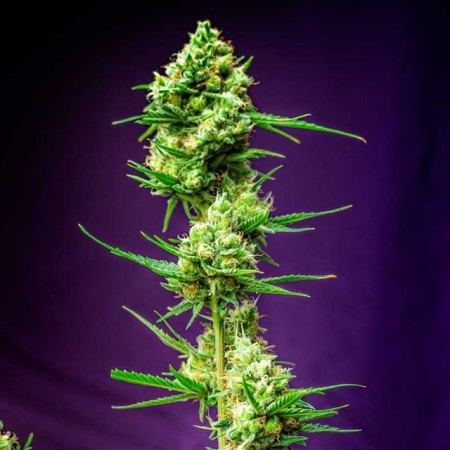 (TGA Genetics: Nurse Jackie)
SATIVA
TGA Genetics:
Nurse Jackie
Flowering Time: 60-70 days
We wanted to combine the strong medicinal effects of Medicine Woman and Jack the Ripper and ended up with this delicious and powerfully effective strain. This stuff just tastes good, and even though you feel every bit of Nurse Jackie's considerable THC (21%+) the complex balance of terpenes that makes it so tasty leaves you with a clear head. Whether you are sick, well, or otherwise, Nurse Jackie is going to help you get up and go deal with whatever you have to do.
Phenotypes:

All phenotypes are tall, stretchy, and super frosty, with buds that are super tasty. There are two main types: one that takes after Jack the Ripper with triangular buds and a strong lemony taste, and another that takes after Medicine Woman with round buds and a strong funky taste.

Height: Tall
Yield: Medium to Heavy
Recommended for Indoor and Outdoor
Best way to grow: Top out into a round bush early will stretch to 3X height. The Sativa nature will really come through as the plant stretches out quite a bit.
Harvest: 56-63 days
Sat/Ind: 85/15
Hybrid: Medicine Woman x Jack the Ripper

High Type: This is strong medicine that leaves you with a clear head. Experienced users will be aware of the high THC content from the get-go, but bitteriness will only set in at pretty high dosages. Nice to get you through the day, particularly for patients with serious medical issues.

Taste/Aroma: Sour lemony to sour funk with earthy undertones. Very distinctive and extremely tasty.
TGA Genetics: Nurse Jackie
Shop
Country
Payment / Shipment
Offers

BPPS

United Kingdom
ACCEPTED PAYMENT:: BANK TRANSFER
CREDIT CARD
MAILING CASH
PHONE

SHIPPING::Herbies Seeds ship worldwide but we ask you to check your local law before ordering, as laws differ from country to country, state to state and by ordering, you are confirming that you are ok to do so.

Shop

Shop

Shop

Shop

Shop

Shop

Shop

Shop

14,47 €
Austria
ACCEPTED PAYMENT:: BANK TRANSFER
CREDIT CARD
BITCOIN
WESTERN UNION

SHIPPING::All costs, the shipping and handling, as well as the costs of the moneytransaction and the customs duty, pay our customers. All goods will be delivered with the Austrian Post - if the amount is higher than EUR 100,-- we will send the order always insured. If the amount is under EUR 100,-- we send it regular but you have an option at the orderprocess where you can choose an insured delivery - this service costs EUR 2,85 extra. If you wish a Stealth-Delivery you can also choose this during the orderprocess - for this service we charge you EUR 5,50 extra. Stealth-Delivery means that we repack your seeds from the original breederspack into an other very discreet package. Orders of EUR 150,-- (€) or more we do not charge any shipping or handling fees. For return delivery and rejected delivery we have to charge you 10 % of the total amount!

5 Reg. Seeds for 52,20 €

Shop

10,44 €
United Kingdom
ACCEPTED PAYMENT:: BANK TRANSFER
CREDIT CARD
BITCOIN
DIGITAL WIRE TRANSFER
CHECK OR CASH BY MAIL

SHIPPING::Please note we only offer tracked shipping to the follow countries: Andorra, Australia, Austria, Belgium, Brazil, Canada, Canary Islands, Croatia, Denmark, Estonia, Finland, France Germany, Hong Kong, Hungary, Iceland, India, Ireland, Latvia, Liechtenstein, Lithuania, Luxembourg, Malaysia, Malta, Netherlands, New Zealand, Poland, Portugal, Singapore, Spain, Sweden, Switzerland, United Kingdom and the USA. If you order your cannabis seeds to any country which is not on the above list, we will send it but cannot guarantee it's delivery, even if you select the "Guaranteed Delivery" product on checkout.

Shop

Shop

15,13 €
Last checked: April 6th, 2019 | Prices containing * are currency converted and may differ insignificantly from the price of the vendor.