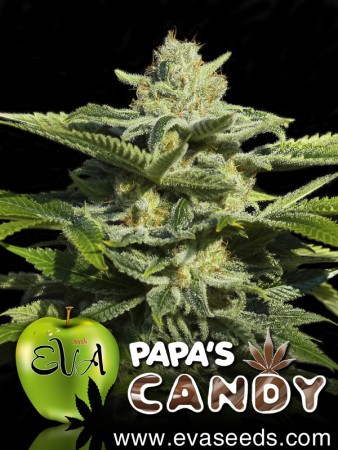 (Eva Seeds: Papa's Candy)
SATIVA
Eva Seeds:
Papa's Candy
Flowering Time: 50-60 days
GENETICS
Laos x Pakistan
SHAPE: Typical Christmas tree shape, quite wide and short. Big and thick central bud and way-out resin levels, which turn all buds a white colour. Very compact buds.
EFFECT: Basically Indica and relaxed, though during the day, it is also very creative with an interesting Sativa touch. Very potent.
SMELL: Sweet, pungent and sticky
TASTE: Sweet and slightly aniseed-like
GROWING MEDIA
GROUND SOIL COCO HYDRO
NUTRITIONAL NEEDS: Medium to high during growth, and high during flowering
INDOOR GROWING
INDOOR LIGHT: sodium
RECOMMENDED HEIGHT WHEN TIME CYCLE CHANGE: 50-60 cm
END OF FLOWERING HEIGHT: 70- 80 cm
WEIGHT/YIELD (9 per meter): 35 to 60 g, depending on medium and container size
OUTDOOR GROWING
OUTDOOR SOWING: between April and June
END OF FLOWERING HEIGHT: from 1.5 to 2 meters, depending on sowing time
OUTDOOR HARVEST: from start to mid October
WEIGHT/YIELD (in soil): between 500 g and 1 kg
CUTTINGS
MINIMUM HEIGHT TO PASS ON TO FLOWERING: 20-30 cm. We recommend 16 per meter.
SUMMARY: A true resin factory, a delicacy in flavour and a powerful effect. Specially addressed to demanding connoisseurs
Eva Seeds: Papa's Candy
Shop
Country
Payment / Shipment
Offers

BPPS

United Kingdom
ACCEPTED PAYMENT:: BANK TRANSFER
MAILING CASH
CREDIT CARD
BITCOIN

SHIPPING::Our expert team sends packages worldwide every day. We use discreet stealth packaging and have a very good track record of sending seeds to every country.

9 Fem. Seeds for 82,22 € *

Shop

9,14 €
United Kingdom
ACCEPTED PAYMENT:: PHONE
CREDIT CARD
MAILING CASH

SHIPPING::The Attitude' ships worldwide but we ask you to check your local law before ordering, as laws differ from country to country, state to state and by ordering, you are confirming that you are ok to do so.

Shop

Shop

Shop

9,50 €
Last checked: April 6th, 2019 | Prices containing * are currency converted and may differ insignificantly from the price of the vendor.