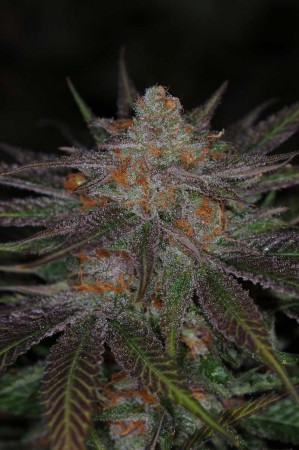 (TGA Genetics: Ripped Bubba)
HYBRID
TGA Genetics:
Ripped Bubba
Flowering Time: 50-60 days
Created to combine the incredible high THC and THCv cannabinoids in Jack the Ripper with the clear calming effect of Bubba Kush the combination of the two make for a creative and motivating effect. Ripped Bubba has the frame of an Indica but with insane amounts of resin that seems to cover every part of the flowers giving the effect of a glass coating. This strain provide pain relief along with a very clear headed and mentally relaxing high.

Phenotypes: The most common expression is an Indica with phenotypes sharing traits of both parents
Height: A higher percentage of plants will have an Indica profile being stocky and robust
Yield: Very dense flowers, Medium yield with completely sugar coated buds
Indoor and Outdoor
Best way to grow: Top early to form multiple heads but hold back on the food at first
Harvest: 55-60 Days
Sat/Ind: 40/60
Hybrid: Bubba Kush Pre-98 x Jacks Cleaner x Space Queen
High Type: Creative and motivational in the mind and calming in the body and soul
Taste: Cherry, kush, hash, blackberries, Skittles candy, some variations have a heavier lemon smell
TGA Genetics: Ripped Bubba
Shop
Country
Payment / Shipment
Offers

BPPS

Austria
ACCEPTED PAYMENT:: BANK TRANSFER
CREDIT CARD
BITCOIN
WESTERN UNION

SHIPPING::All costs, the shipping and handling, as well as the costs of the moneytransaction and the customs duty, pay our customers. All goods will be delivered with the Austrian Post - if the amount is higher than EUR 100,-- we will send the order always insured. If the amount is under EUR 100,-- we send it regular but you have an option at the orderprocess where you can choose an insured delivery - this service costs EUR 2,85 extra. If you wish a Stealth-Delivery you can also choose this during the orderprocess - for this service we charge you EUR 5,50 extra. Stealth-Delivery means that we repack your seeds from the original breederspack into an other very discreet package. Orders of EUR 150,-- (€) or more we do not charge any shipping or handling fees. For return delivery and rejected delivery we have to charge you 10 % of the total amount!

5 Reg. Seeds for 52,20 €

Shop

10,44 €
United Kingdom
ACCEPTED PAYMENT:: PHONE
CREDIT CARD
MAILING CASH

SHIPPING::The Attitude' ships worldwide but we ask you to check your local law before ordering, as laws differ from country to country, state to state and by ordering, you are confirming that you are ok to do so.

Shop

Shop

Shop

10,81 €
Last checked: April 6th, 2019 | Prices containing * are currency converted and may differ insignificantly from the price of the vendor.