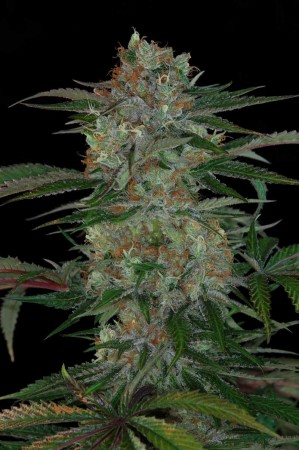 (TGA Genetics: Qush)
HYBRID
TGA Genetics:
Qush
Flowering Time: 50-60 days
Bubba Kush Pre-98 x Space Queen

Just imagine the smell of kush combined with the candy flavoring of Sweet Tarts. The main goals we set out to accomplish was to increase the resin production and improved flavor and taste. Improved yields and hybrid vigor came along in the compact but high yielding hybrid we call Qush. Not only is it easy to grow, it is quite a powerful medicine designed for anti-anxiety and relaxation as well as help with nausea.

Phenotypes: Short and compact and unmistakably kush. The only variance is a slight difference in the fruit smell, some cherry, some grape and some citrus
Height: Stocky and robust with nice support branching and large round flower formations
Yield: Large poodle style flowers with medium density, chunky and fat buds. Even smaller plants produce higher than average weight
Indoor and Outdoor
Best way to grow: Plant naturally stays short and is easy to train into a dense canopy. Increase veg times for higher yields
Harvest: 55-60 days
Sat/Ind: 30/70
Hybrid: Bubba Kush Pre-98 x Space Queen
High Type: Stoney and relaxing, only a few hits bring on an overall calmness. Strong but does not cause anxiety or nervousness. Times seems to slow but the imagination soars and you find yourself lost in self reflection.
Taste: Grape, cherry, kush, hash, Sweet Tarts, rotten pineapple, sour. Secondary smells are coffee, toffee, caramel, spicy and garlic.
TGA Genetics: Qush
Shop
Country
Payment / Shipment
Offers

BPPS

Austria
ACCEPTED PAYMENT:: BANK TRANSFER
CREDIT CARD
BITCOIN
WESTERN UNION

SHIPPING::All costs, the shipping and handling, as well as the costs of the moneytransaction and the customs duty, pay our customers. All goods will be delivered with the Austrian Post - if the amount is higher than EUR 100,-- we will send the order always insured. If the amount is under EUR 100,-- we send it regular but you have an option at the orderprocess where you can choose an insured delivery - this service costs EUR 2,85 extra. If you wish a Stealth-Delivery you can also choose this during the orderprocess - for this service we charge you EUR 5,50 extra. Stealth-Delivery means that we repack your seeds from the original breederspack into an other very discreet package. Orders of EUR 150,-- (€) or more we do not charge any shipping or handling fees. For return delivery and rejected delivery we have to charge you 10 % of the total amount!

5 Reg. Seeds for 52,20 €

Shop

10,44 €
United Kingdom
ACCEPTED PAYMENT:: PHONE
CREDIT CARD
MAILING CASH

SHIPPING::The Attitude' ships worldwide but we ask you to check your local law before ordering, as laws differ from country to country, state to state and by ordering, you are confirming that you are ok to do so.

Shop

Shop

Shop

10,81 €
Last checked: April 6th, 2019 | Prices containing * are currency converted and may differ insignificantly from the price of the vendor.