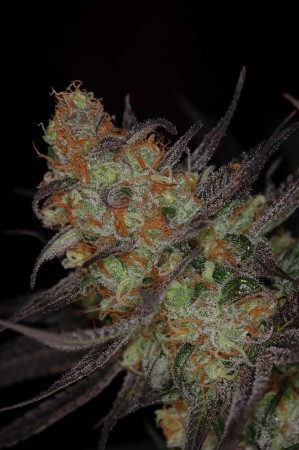 (TGA Genetics: Qleaner)
HYBRID
TGA Genetics:
Qleaner
Flowering Time: 60-70 days
Jacks Cleaner x Querkle
Dank 2.0
A Skunk MILF
Big Book 4

This strain has been fully tested by the growing public.
Test grower Bongorilla's Qleaner was featured in Skunk magazine and also in the Big Book of Buds 4. He also received a high ratio of females 7 total. We are very happy with the field reports, especially the stability of the strain, the heavy resin production, and the amazing smell and taste we created in this hybrid. The fact that the strain goes purple in the right conditions just adds to its mystique. This took a long journey to accomplish and we are extremely happy with the results.

Phenotypes: Large, heavy super resinous females
Height: Tall spear shaped cola's
Yield: Medium to heavy
Indoor, Outdoor and Greenhouse
Best way to grow: The plant grows very fast in soil and super fast in hydro
Harvest: 60-70 Days
Sat/Ind: 60/40
Hybrid: Jacks Cleaner F1 x Purple Urkle x Space Queen
High Type: Very spacey and strong it seems to impress even the seasoned pot snob
Taste: Variations include grape and banana smelling females...We openly tested this strain in 10 separate gardens with growers at all skill levels and every single one got amazing results.
We openly tested this strain in 10 separate gardens with growers at all skill levels and every single one got amazing results.
TGA Genetics: Qleaner
Shop
Country
Payment / Shipment
Offers

BPPS

Austria
ACCEPTED PAYMENT:: BANK TRANSFER
CREDIT CARD
BITCOIN
WESTERN UNION

SHIPPING::All costs, the shipping and handling, as well as the costs of the moneytransaction and the customs duty, pay our customers. All goods will be delivered with the Austrian Post - if the amount is higher than EUR 100,-- we will send the order always insured. If the amount is under EUR 100,-- we send it regular but you have an option at the orderprocess where you can choose an insured delivery - this service costs EUR 2,85 extra. If you wish a Stealth-Delivery you can also choose this during the orderprocess - for this service we charge you EUR 5,50 extra. Stealth-Delivery means that we repack your seeds from the original breederspack into an other very discreet package. Orders of EUR 150,-- (€) or more we do not charge any shipping or handling fees. For return delivery and rejected delivery we have to charge you 10 % of the total amount!

5 Reg. Seeds for 52,20 €

Shop

10,44 €
United Kingdom
ACCEPTED PAYMENT:: PHONE
CREDIT CARD
MAILING CASH

SHIPPING::The Attitude' ships worldwide but we ask you to check your local law before ordering, as laws differ from country to country, state to state and by ordering, you are confirming that you are ok to do so.

Shop

Shop

Shop

10,81 €
United Kingdom
ACCEPTED PAYMENT:: BANK TRANSFER
CREDIT CARD
BITCOIN
DIGITAL WIRE TRANSFER
CHECK OR CASH BY MAIL

SHIPPING::Please note we only offer tracked shipping to the follow countries: Andorra, Australia, Austria, Belgium, Brazil, Canada, Canary Islands, Croatia, Denmark, Estonia, Finland, France Germany, Hong Kong, Hungary, Iceland, India, Ireland, Latvia, Liechtenstein, Lithuania, Luxembourg, Malaysia, Malta, Netherlands, New Zealand, Poland, Portugal, Singapore, Spain, Sweden, Switzerland, United Kingdom and the USA. If you order your cannabis seeds to any country which is not on the above list, we will send it but cannot guarantee it's delivery, even if you select the "Guaranteed Delivery" product on checkout.

Shop

Shop

15,13 €
Last checked: April 6th, 2019 | Prices containing * are currency converted and may differ insignificantly from the price of the vendor.