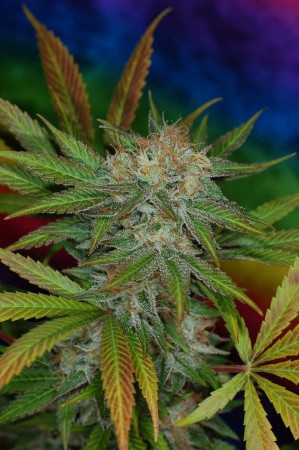 (TGA Genetics: Jillybean)
HYBRID
TGA Genetics:
Jillybean
Flowering Time: 50-60 days
Orange Velvet x Romulan x Cindy99

High Times Top Ten 2007
Best Medical Sativa - 1st place
People's Choice Cup: Hash - 2nd place, shatter
Featured in the Big Book of Buds 3 pages 92, 93

Jill was lucky enough to be gifted this amazing Orange Skunk and the day we smoked the finished bud we knew we had to outcross it with our Space Queen male. You don't really have to be a master breeder to figure out orange, pineapple and mango will be a good combination. The resulting outcross is remarkably stable and is close to a 50/50 representation of the parents. Topped only once it grows into a nice short bush with lots of side branching and multi heads. Flavors range from orange, Tang, candy, mango, and apple. The cross works really well in SOG or SCROG. Very large stems and huge top colas make this an easy strain to grow in any medium.

We had 5 females in our bud room and 4 could be cloned. They possess the same height, same growth speed and all have that dank orange smell. Very good as a mood elevator along with a feeling of general euphoria are experienced while high on this cross. Lime green with vibrant orange hairs and with temperature drops it can turn a deep burgundy to maroon.

Phenotypes: Very stable orange and mango 50/50 phenotypes
Height: Short and stocky
Yield: Very heavy / Easy to trim
Indoor and Outdoor
Best way to grow: Single topping forms multi heads
Harvest: 8 weeks
Sat/Ind: 60/40
Hybrid: Unknown Orange Skunk x Romulan x Cindy99BCGA
High Type: Happy, mood enhancing, humorous, and energetic
Taste: Like orange skunk or Tang. They taste so much like Dreamcicles you will not believe it!

Extremely up beat and happy the buzz for great for depression and bad days.
TGA Genetics: Jillybean
Shop
Country
Payment / Shipment
Offers

BPPS

United Kingdom
ACCEPTED PAYMENT:: BANK TRANSFER
CREDIT CARD
MAILING CASH
PHONE

SHIPPING::Herbies Seeds ship worldwide but we ask you to check your local law before ordering, as laws differ from country to country, state to state and by ordering, you are confirming that you are ok to do so.

Shop

Shop

Shop

Shop

Shop

Shop

Shop

14,47 €
Austria
ACCEPTED PAYMENT:: BANK TRANSFER
CREDIT CARD
BITCOIN
WESTERN UNION

SHIPPING::All costs, the shipping and handling, as well as the costs of the moneytransaction and the customs duty, pay our customers. All goods will be delivered with the Austrian Post - if the amount is higher than EUR 100,-- we will send the order always insured. If the amount is under EUR 100,-- we send it regular but you have an option at the orderprocess where you can choose an insured delivery - this service costs EUR 2,85 extra. If you wish a Stealth-Delivery you can also choose this during the orderprocess - for this service we charge you EUR 5,50 extra. Stealth-Delivery means that we repack your seeds from the original breederspack into an other very discreet package. Orders of EUR 150,-- (€) or more we do not charge any shipping or handling fees. For return delivery and rejected delivery we have to charge you 10 % of the total amount!

5 Reg. Seeds for 52,20 €

Shop

10,44 €
United Kingdom
ACCEPTED PAYMENT:: BANK TRANSFER
CREDIT CARD
BITCOIN
MAILING CASH

SHIPPING::Do you ship to my country? Yes unless you are in North Korea or Brigadoon. All of our shipments are dispatched using trackable Royal Mail. Royal Mail First Class Recorded & Packaging £4.99 GBP (order £6.99 orders over £60) Royal Mail Airsure Traceable Service £9.99 GB Spend £100 GBP or More & Your Shipping is Free!

5 Reg. Seeds for 81,86 €

Shop

16,37 €
Last checked: April 6th, 2019