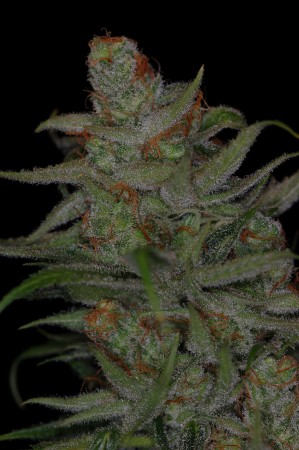 (TGA Genetics: Jack Skellington)
HYBRID
TGA Genetics:
Jack Skellington
Flowering Time: 50-60 days
Killer Queen G-13 Dom x Jack The Ripper

Twelve years ago I ran Killer Queen and kept the Cindy Dominant female and I have looked for over a decade for the G-13 phenotype. Once we found this heavy resin producer we crossed it with our Jack the Ripper to combine the citrus taste with the ultimate resin producing plant.

Extracts made from these resins appear almost white. Not for the occasional smoker!

Phenotypes: Slight variation and heavy resin production
Height: Tall and wide, we suggest topping for better yields
Yield: Medium flowers, copious amounts of resin.
Indoor and Outdoor
Best way to grow: Perfect for SOG but top for height control
Harvest: 8 weeks
Sat/Ind: 70/30
Hybrid: Cindy 99 x G-13 x Jacks Cleaner x Space Queen
High Type: Intense and strong mind numbing potency, instant euphoria and mental clarity, introspective and creative even through the mental confusion that comes with the potency.
Taste: Limes, astringent, fruity, slight Haze influence and the unmistakable G-13 flavor.
TGA Genetics: Jack Skellington
Shop
Country
Payment / Shipment
Offers

BPPS

Austria
ACCEPTED PAYMENT:: BANK TRANSFER
CREDIT CARD
BITCOIN
WESTERN UNION

SHIPPING::All costs, the shipping and handling, as well as the costs of the moneytransaction and the customs duty, pay our customers. All goods will be delivered with the Austrian Post - if the amount is higher than EUR 100,-- we will send the order always insured. If the amount is under EUR 100,-- we send it regular but you have an option at the orderprocess where you can choose an insured delivery - this service costs EUR 2,85 extra. If you wish a Stealth-Delivery you can also choose this during the orderprocess - for this service we charge you EUR 5,50 extra. Stealth-Delivery means that we repack your seeds from the original breederspack into an other very discreet package. Orders of EUR 150,-- (€) or more we do not charge any shipping or handling fees. For return delivery and rejected delivery we have to charge you 10 % of the total amount!

5 Reg. Seeds for 40,89 €

Shop

8,18 €
United Kingdom
ACCEPTED PAYMENT:: PHONE
CREDIT CARD
MAILING CASH

SHIPPING::The Attitude' ships worldwide but we ask you to check your local law before ordering, as laws differ from country to country, state to state and by ordering, you are confirming that you are ok to do so.

Shop

Shop

Shop

10,81 €
Last checked: April 6th, 2019 | Prices containing * are currency converted and may differ insignificantly from the price of the vendor.