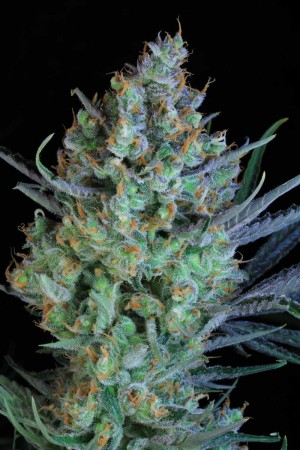 (TGA Genetics: Jacked-Up)
HYBRID
TGA Genetics:
Jacked-Up
Flowering Time: 60-70 days
Jack Herer X Timewreck

On the 8th day the lords of resin forged Jacked Up, this devastating combination comes from the original Jack Herer plant crossed with our Timewreck. Jack Herer provides the haze from the Herer family with the Train Wreck funk you can expect from our amazing Timewreck pheno. This gal is a heavy producer that will be finished within 60 to 70 days. She will reward you with her heavy monstrous colas that she carries on a medium frame which has the ability to carry great weight without support from stakes. A cerebral uplifting smoke that is great for daytime medicating. She also makes amazing extracts. It looks like somebody rolled the flowers in the sugar jar during the last weeks of flowering.

Phenotypes: Equal mix of both parents has been passed along
Height: Tall with a medium stretch at onset of 12/12
Yield: Medium / Heavy producer
Recommended for Indoor, Outdoor and Greenhouse.
Best way to grow: Top early and at least a couple of times to produce a few main cola's and allow for some extra veg time.
Harvest: 60-70 days days
Sat/Ind: 60/40
Hybrid: Jack Herer X Timewreck
High Type: Strong, intense, uplifting, great daytime smoke, and very powerful psychoactive properties
Taste/Aroma: Haze, sandalwood, musk, berries, citrus, peaches and apricots
TGA Genetics: Jacked-Up
Shop
Country
Payment / Shipment
Offers

BPPS

Austria
ACCEPTED PAYMENT:: BANK TRANSFER
CREDIT CARD
BITCOIN
WESTERN UNION

SHIPPING::All costs, the shipping and handling, as well as the costs of the moneytransaction and the customs duty, pay our customers. All goods will be delivered with the Austrian Post - if the amount is higher than EUR 100,-- we will send the order always insured. If the amount is under EUR 100,-- we send it regular but you have an option at the orderprocess where you can choose an insured delivery - this service costs EUR 2,85 extra. If you wish a Stealth-Delivery you can also choose this during the orderprocess - for this service we charge you EUR 5,50 extra. Stealth-Delivery means that we repack your seeds from the original breederspack into an other very discreet package. Orders of EUR 150,-- (€) or more we do not charge any shipping or handling fees. For return delivery and rejected delivery we have to charge you 10 % of the total amount!

5 Reg. Seeds for 52,20 €

Shop

10,44 €
United Kingdom
ACCEPTED PAYMENT:: BANK TRANSFER
CREDIT CARD
BITCOIN
DIGITAL WIRE TRANSFER
CHECK OR CASH BY MAIL

SHIPPING::Please note we only offer tracked shipping to the follow countries: Andorra, Australia, Austria, Belgium, Brazil, Canada, Canary Islands, Croatia, Denmark, Estonia, Finland, France Germany, Hong Kong, Hungary, Iceland, India, Ireland, Latvia, Liechtenstein, Lithuania, Luxembourg, Malaysia, Malta, Netherlands, New Zealand, Poland, Portugal, Singapore, Spain, Sweden, Switzerland, United Kingdom and the USA. If you order your cannabis seeds to any country which is not on the above list, we will send it but cannot guarantee it's delivery, even if you select the "Guaranteed Delivery" product on checkout.

Shop

Shop

15,13 €
Last checked: April 6th, 2019 | Prices containing * are currency converted and may differ insignificantly from the price of the vendor.