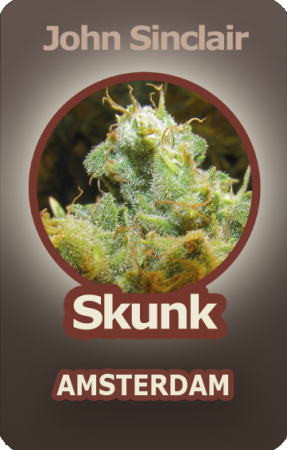 (John Sinclair: Amsterdam)
HYBRID
John Sinclair:
Amsterdam
Flowering Time: 50-60 days
Skunk is the original hybrid – the first ever stable crossing of an Indica and a Sativa. Today skunk is often used to refer to any powerful marijuana, but only the original skunk can live up to its reputation: very smelly, and very, very strong. John Sinclair has been a long lover of potent ganja, and this is his own tribute to the widely loved Skunk: a fast growing, high yielding plant with exceptionally strong effects.

Named after the smelliest inhabitant of the animal kingdom, the naming of this plant is not coincidental. You will recognize a skunk first and foremost by the pungent odour kicking your nostrils with solid force. When up in smoke, the skunk hits fast and heavy – this is a smoke for those who can take a punch! With both Sativa and Indica in her genes, the skunk gives a gorgeous combination of high and stone, one of the most sought-after effects in the entire world of cannabis!

The Skunk is probably one of the most satisfying plants to grow. As the Skunk has been around for decades, its genetics have had time to stabilize properly, which gives John Sinclair Skunk a consistent structure and steady bud formation, and she delivers every single time. The growth and flowering is dominated by the Indica genes, although the John Sinclair Skunk will grow somewhat taller than pure Indica strains. She only takes 8-9 weeks to mature, is easy to maintain and will yield abundantly. John Sinclair Skunk is the best choice for a beginner because of its rock solid genetics, stable and reliable performance, quick flowering time and general low maintenance. The Sativa genes manifest when the delightful buds are harvested and smoked – the Skunk effect is legendary – the ultimate combination of high and stoned!
John Sinclair: Amsterdam
Shop
Country
Payment / Shipment
Offers

BPPS

Netherlands
ACCEPTED PAYMENT:: BANK TRANSFER
DIRECTebanking
iDeal
BITCOIN
MAILING CASH

SHIPPING::We ship to all countries within the EU. We strive to offer you the lowest possible shipping rates. To offer you even further value, all orders of € 150,- or more are sent free of charge!

5 Fem. Seeds for 25,00 €

Shop

5,00 €
Austria
ACCEPTED PAYMENT:: BANK TRANSFER
CREDIT CARD
BITCOIN
WESTERN UNION

SHIPPING::All costs, the shipping and handling, as well as the costs of the moneytransaction and the customs duty, pay our customers. All goods will be delivered with the Austrian Post - if the amount is higher than EUR 100,-- we will send the order always insured. If the amount is under EUR 100,-- we send it regular but you have an option at the orderprocess where you can choose an insured delivery - this service costs EUR 2,85 extra. If you wish a Stealth-Delivery you can also choose this during the orderprocess - for this service we charge you EUR 5,50 extra. Stealth-Delivery means that we repack your seeds from the original breederspack into an other very discreet package. Orders of EUR 150,-- (€) or more we do not charge any shipping or handling fees. For return delivery and rejected delivery we have to charge you 10 % of the total amount!

Shop

Shop

3,83 €
United Kingdom
ACCEPTED PAYMENT:: PHONE
CREDIT CARD
MAILING CASH

SHIPPING::The Attitude' ships worldwide but we ask you to check your local law before ordering, as laws differ from country to country, state to state and by ordering, you are confirming that you are ok to do so.

Shop

Shop

4,07 €
Last checked: April 6th, 2019 | Prices containing * are currency converted and may differ insignificantly from the price of the vendor.