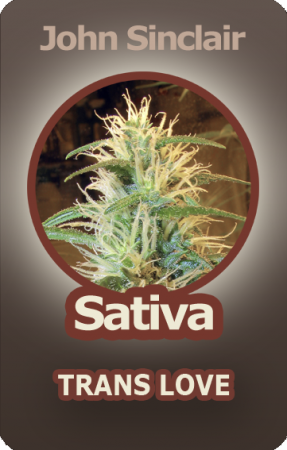 (John Sinclair: Trans-Love)
SATIVA
John Sinclair:
Trans-Love
Flowering Time: 70-80 days
- Breed: (Sativa x Indica) x Sativa
- Flowering: 70-75 days
- Yield: 0.9-1.1 gram per Watt of light


John Sinclair Sativa, known as 'Trans-Love' is a prime specimen of the celebrated tropical Cannabis Sativa, which allures connoisseurs worldwide with its lucid, cerebral effect and boost of energy. There is no better fuel for a creative mind than a garden of top quality John Sinclair Sativa plants!

Having spent several decades writing poetry and prose, John Sinclair has developed an expertise in recognizing creativity enhancing cannabis varieties, and John Sinclair Sativa is his tribute to smokers who appreciate the uplifting and energetic effect of the wonderful Sativa plant.

As any good Sativa dominant variety, 'Trans-Love' has a pungent smell with a spicy, fruity scent. Secondly, this variety is highly potent and with a distinct Sativa high: uplifting, sharp, focused and productive. It is also quite visual. There is no couch lock effect with this variety. Instead of being a couch potato, you'll find yourself inspired and motivated. So get ready to be creative!
John Sinclair: Trans-Love
Shop
Country
Payment / Shipment
Offers

BPPS

Austria
ACCEPTED PAYMENT:: BANK TRANSFER
CREDIT CARD
BITCOIN
WESTERN UNION

SHIPPING::All costs, the shipping and handling, as well as the costs of the moneytransaction and the customs duty, pay our customers. All goods will be delivered with the Austrian Post - if the amount is higher than EUR 100,-- we will send the order always insured. If the amount is under EUR 100,-- we send it regular but you have an option at the orderprocess where you can choose an insured delivery - this service costs EUR 2,85 extra. If you wish a Stealth-Delivery you can also choose this during the orderprocess - for this service we charge you EUR 5,50 extra. Stealth-Delivery means that we repack your seeds from the original breederspack into an other very discreet package. Orders of EUR 150,-- (€) or more we do not charge any shipping or handling fees. For return delivery and rejected delivery we have to charge you 10 % of the total amount!

Shop

Shop

7,13 €
United Kingdom
ACCEPTED PAYMENT:: PHONE
CREDIT CARD
MAILING CASH

SHIPPING::The Attitude' ships worldwide but we ask you to check your local law before ordering, as laws differ from country to country, state to state and by ordering, you are confirming that you are ok to do so.

Shop

Shop

7,56 €
Last checked: April 6th, 2019 | Prices containing * are currency converted and may differ insignificantly from the price of the vendor.