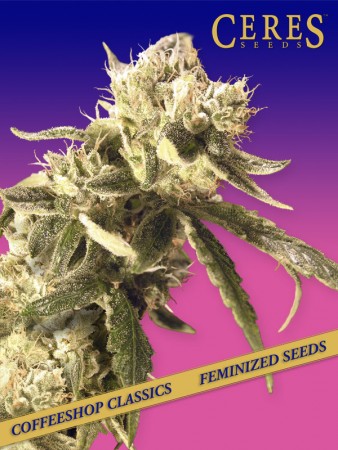 (Ceres Seeds: Easy Rider)
HYBRID
Ceres Seeds:
Easy Rider
Flowering Time: 50-60 days
- Feminized seeds
- Automatic flowering
- Available in 5 and 10 packs

- Ruderalis x (Indica x Sativa) crossing
- Indoor flowering time: 50 - 55 days
- Indoor yield: 0.85 gram per watt of light
- Outdoor harvesting: End of September
- Outdoor yield: Depending on climate



This new Ruderalis and Skunk crossing is a little beauty. It is an auto-flowering variety, which means that it has the special feature of blooming according to the age of the plant, rather than the light cycle. The auto-flowering feature of the Easy Rider makes this plant particularly well suited for tough growing conditions.

Easy Rider normally begins flowering when the plant is growing its seventh set of leaves. This little plant that usually grows to a height of 90-120 cm, and can be harvested at the end of September. Originating from the Siberian tundra, this little lady is a tough one, and she can handle harsh conditions better than any other.

Easy Rider is a great choice for the busy grower or for growing under less than optimal circumstances. She requires less attention, and is therefore less demanding than a Sativa, or even an Indica. Easy Rider is a crossing of Ruderalis and Skunk. Ruderalis' growing capacities are extraordinary. This little dwarf grows practically anywhere, and is able to take care of itself. Ruderalis in itself does not give a fantastic high, that is why we crossed it with our favourite Skunk; to give it great effects as well as excellent growing capabilities. The result is the wonderful Easy Rider: an easily grown variety with fabulous effects. Easy Rider has a pungent smell, slightly bitter Indica scent and a mouthwatering flavour. The high is a clear-headed with a relaxed Indica body stone, and it gives a tingling, happy buzz. Perfect for partying!
Ceres Seeds: Easy Rider
Shop
Country
Payment / Shipment
Offers

BPPS

United Kingdom
ACCEPTED PAYMENT:: PHONE
CREDIT CARD
MAILING CASH

SHIPPING::The Attitude' ships worldwide but we ask you to check your local law before ordering, as laws differ from country to country, state to state and by ordering, you are confirming that you are ok to do so.

Shop

Shop

Shop

7,56 €
Last checked: April 6th, 2019 | Prices containing * are currency converted and may differ insignificantly from the price of the vendor.