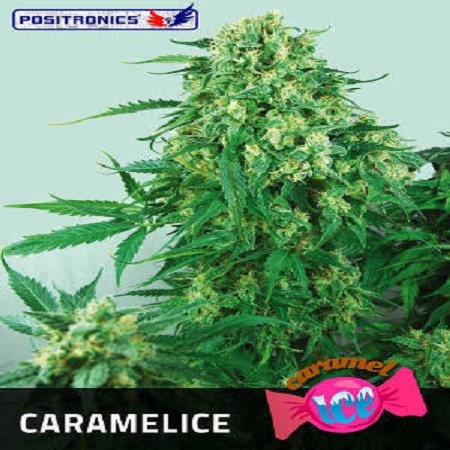 (Positronics: CBD Caramelice)
INDICA
Positronics:
CBD Caramelice
Flowering Time: 60-70 days
Caramelice concentrates the flavor and the aroma of her parents, while maintaining greater resistance to mold, and a decent flowering time. From the fifth week on, she will begin to assume the typical intense orange color. Her calyxes are covered with a large number of trichomes, forming "towers of gems" large and dense. The flowers are so large and dense, they are called "donkey dicks"!

An intense citrus flavor awaits. Orange, Lemon, and Lime, the entire family of citrus fruits are included in ONE variety of Cannabis! The aroma, combined with the taste, are the keys to success for this variety. It seems really to have a slice of orange in your mouth!

She provides a euphoric high, typically favoring the Skunk varieties. She has an average psychoactive feel, ideal for anti-stress bliss. of course she will increase the appetite.
It is recommended to use a retaining system, to sustain the weight of the massive buds. The constant use of fans will be required, to move large amounts of air up to the huge bunches of flowers. Essential, will be the adoption of odor controlling systems, such as carbon filters, an ionozer, or stink buckets. A truly tasty smoke!
Positronics: CBD Caramelice
Shop
Country
Payment / Shipment
Offers

BPPS

United Kingdom
ACCEPTED PAYMENT:: BANK TRANSFER
CREDIT CARD
MAILING CASH
PHONE

SHIPPING::Herbies Seeds ship worldwide but we ask you to check your local law before ordering, as laws differ from country to country, state to state and by ordering, you are confirming that you are ok to do so.

1 Fem. Seed for 14,69 €

Shop

14,69 €
Last checked: April 6th, 2019