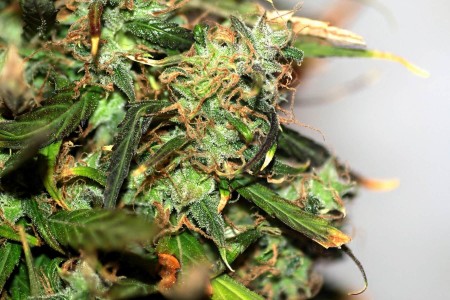 (Seedsman: Original Afghani #1)
INDICA
Seedsman:
Original Afghani #1
Flowering Time: 50-60 days
Original Afghani #1 is another cannabis strain brought to the world courtesy of Sacred Seeds in the 1970s. It is a traditional land-race cannabis and an early example in the west of a stable, true-breeding indica that has since been used in many breeding programmes. This indica is a hardy plant that is well-known for producing dense, resinous buds that are excellent for the production of traditional hashish. In the last 4 decades or more it has become acclimatised to growing outdoors in the USA and in Europe by highly selective breeding which successfully fixed more favourable traits such as resin production and early flowering.

The Sensi Seed Bank is just one of many that has used this strain extensively to create some wonderful indica-dominant cannabis strains. Vigorous in vegetative growth it remains a squat plant with a very strong stem that protects it against the wind. It has a very strong, rich aroma which is quite unmistakable. As a true-breeding, classic indica it provides very reliable breeding stock.
Seedsman: Original Afghani #1
Shop
Country
Payment / Shipment
Offers

BPPS

Spain
ACCEPTED PAYMENT:: BANK TRANSFER
MAILING CASH
BITCOIN

SHIPPING::The shipping and handling costs depend on the country and the total value of the order. From 400 Euros you will even receive a a discount of 10% on the total of your order.Within Europe a letter takes between 2 - 5 working days and outside Europe usually between 5 - 10 days. But this all depends on the postal service in your country. Once the letter is in the mail we have absolutely no influence.

10 Reg. Seeds for 21,00 €

Shop

2,10 €
United Kingdom
ACCEPTED PAYMENT:: BANK TRANSFER
MAILING CASH
CREDIT CARD
BITCOIN

SHIPPING::Our expert team sends packages worldwide every day. We use discreet stealth packaging and have a very good track record of sending seeds to every country.

Shop

Shop

0,91 €
United Kingdom
ACCEPTED PAYMENT:: PHONE
CREDIT CARD
MAILING CASH

SHIPPING::The Attitude' ships worldwide but we ask you to check your local law before ordering, as laws differ from country to country, state to state and by ordering, you are confirming that you are ok to do so.

10 Reg. Seeds for 17,43 € *

Shop

1,74 €
United Kingdom
ACCEPTED PAYMENT:: BANK TRANSFER
CREDIT CARD
BITCOIN
DIGITAL WIRE TRANSFER
CHECK OR CASH BY MAIL

SHIPPING::Please note we only offer tracked shipping to the follow countries: Andorra, Australia, Austria, Belgium, Brazil, Canada, Canary Islands, Croatia, Denmark, Estonia, Finland, France Germany, Hong Kong, Hungary, Iceland, India, Ireland, Latvia, Liechtenstein, Lithuania, Luxembourg, Malaysia, Malta, Netherlands, New Zealand, Poland, Portugal, Singapore, Spain, Sweden, Switzerland, United Kingdom and the USA. If you order your cannabis seeds to any country which is not on the above list, we will send it but cannot guarantee it's delivery, even if you select the "Guaranteed Delivery" product on checkout.

Shop

Shop

1,31 €
Last checked: April 6th, 2019 | Prices containing * are currency converted and may differ insignificantly from the price of the vendor.