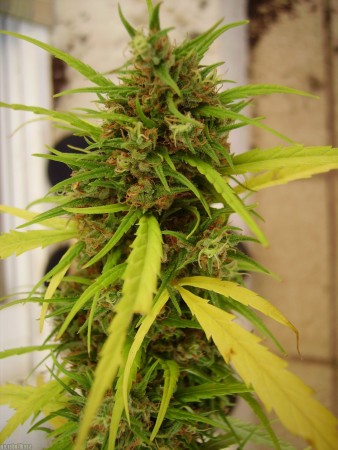 (ACE Seeds: Guawi)
SATIVA
ACE Seeds:
Guawi
Flowering Time: 80-90 days
The Malawi mother is the oldest and most poweful sativa clone that we keep in our collection. Its incredible production of huge trichomes, its flower density and its devastating power, which knocks down the hardest and most nervous smoker, turns it into a cannabinoids bomb. After pollinating this Malawi mother with our incensey Tikal 4 line we have created Guawi, a vigorous, productive and powerful F1 sativa hybrid. The Guatemala contributes with its strong branched structure, large flowers and a shorter flowering time, improving as well the original African clone's flavour. Recommended to those breeders looking for a powerful and highly productive sativa. Excellent mould resistance. Preferable for outdoors and warm climates. It can be grown indoors with intense light and wide space.

Bouquet: At first, spicy and woody on the tongue spreading through the palate with floral and orange tones. Deep background of resins and oils.

High: Very powerful, long-lasting and therapeutic effect. Strong, dense and psychedelic high in the beginning, followed by a relaxing stage that leads to a physical and mental hibernation.

Limited Edition
Genetics: Malawi x Tikal 4
Flowering indoors: 11-12 weeks
Flowering outdoors: Early November.
Yield per m²: High

Resistence against spider mite and oidium: Medium
Resistence against botrytis: High
Resistence against cold: Medium-High
ACE Seeds: Guawi
Shop
Country
Payment / Shipment
Offers

BPPS

United Kingdom
ACCEPTED PAYMENT:: BANK TRANSFER
CREDIT CARD
BITCOIN
DIGITAL WIRE TRANSFER
CHECK OR CASH BY MAIL

SHIPPING::Please note we only offer tracked shipping to the follow countries: Andorra, Australia, Austria, Belgium, Brazil, Canada, Canary Islands, Croatia, Denmark, Estonia, Finland, France Germany, Hong Kong, Hungary, Iceland, India, Ireland, Latvia, Liechtenstein, Lithuania, Luxembourg, Malaysia, Malta, Netherlands, New Zealand, Poland, Portugal, Singapore, Spain, Sweden, Switzerland, United Kingdom and the USA. If you order your cannabis seeds to any country which is not on the above list, we will send it but cannot guarantee it's delivery, even if you select the "Guaranteed Delivery" product on checkout.

5 Fem. Seeds for 44,81 € *

Shop

8,96 €
Last checked: April 6th, 2019 | Prices containing * are currency converted and may differ insignificantly from the price of the vendor.