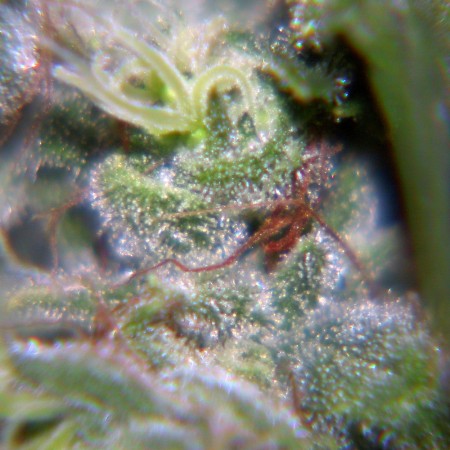 (Female Seeds: Nev. Haze)
SATIVA
Female Seeds:
Nev. Haze
Flowering Time: 60-70 days
A pure Nev. Haze cannabis that only needs 8 weeks to flower? Impossible! most will answer. Sceptic testers have confirmed that the answer is YES, it is possible. And even more uniform than the original 16 weeks version.
For 12 years we have been working on bringing the flowering time back and making her less stretchy (brought back from 2m to 80cm - 1m indoors). While also selecting on stability, resin production and Nev. Haze characteristics of course. With its extreme trippiness, distinguished smell and taste.

The Nev. Haze is famed as the queen of all Hazes. Because of its unique combination of cannabioïds, which makes it not one of the strongest cannabis, but one of the most trippy and spiritual varieties. From a medical point of view anti-depressive, thus uplifting.
One that will more than satisfy every sativa lover.

Height: 0,8 - 1m
Flowering time: 9 weeks
Seed to harvest: 11 weeks
Yield: very good
Taste / Smell: Herbal hazy, like rotten fruits.
Female Seeds: Nev. Haze
Shop
Country
Payment / Shipment
Offers

BPPS

United Kingdom
ACCEPTED PAYMENT:: PHONE
CREDIT CARD
MAILING CASH

SHIPPING::The Attitude' ships worldwide but we ask you to check your local law before ordering, as laws differ from country to country, state to state and by ordering, you are confirming that you are ok to do so.

Shop

Shop

6,16 €
Last checked: April 6th, 2019 | Prices containing * are currency converted and may differ insignificantly from the price of the vendor.