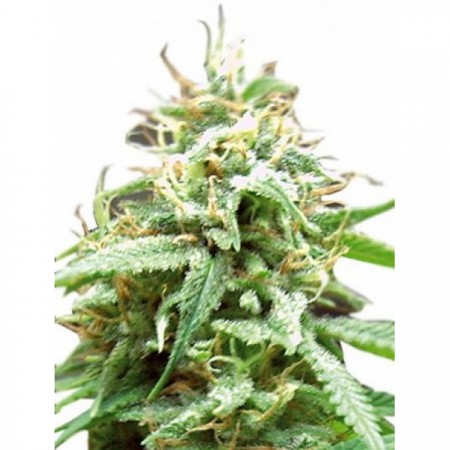 (World of Seeds: Diamond Line Obsession)
INDICA
World of Seeds:
Diamond Line Obsession
Flowering Time: 60-70 days
World of Seeds Diamond Line Obsession is a Gilgit Valley (Pakistan) and a stabilized male hybrid of White Rhino, Black Domina and well known marijuana strain Jack Herer. Obsession just can't disappoint you with such ancestors. The highest qualities of the three champions of various cannabis cups have been put together in Obsession seed. An ability to give excellent performance both indoors and outdoors and a deliciously hashy and slightly harsh flavour from White Rhino, high tolerance to irrigation and resistance to diseases from Black Domina, and strongest narcotic effects from Jack Herer are just few characteristics of this cannabis presented by World of Seed industry. Cannabis seeds of World of Seeds are all hand selected and thoroughly tested for high qualities; almost 80% of germination is guaranteed. They produce strong marijuana plants with shiny light green foliage. Being 90% indica, the plants can reach their maximum high (up to 90 cm.) within 8-10 weeks. It's recommended to tip the tops of Obsession during the maturing period. It will prevent them from overgrowing and increase the yield. Indoors harvest lasts 9 weeks with a usual yield as high as 400 gr per plant. When grown outdoors, Obsession cannabis seeds are ready at the end of September; you can get as much as 400-500 gr per plant. This cannabis strain has an excellent leave to bud ratio - her buds are not overcrowded with the leaves and have enough space and light to fully mature. They are covered with sticky glittery crystals full of THC that looks like they are "rolled in sugar". High percent of THC (15-20%) gives this marijuana great medical value as a part of effective treatments against depressions. The effect is described high stony which comes on hard.
World of Seeds: Diamond Line Obsession
Shop
Country
Payment / Shipment
Offers

BPPS

United Kingdom
ACCEPTED PAYMENT:: BANK TRANSFER
CREDIT CARD
BITCOIN
MAILING CASH

SHIPPING::Do you ship to my country? Yes unless you are in North Korea or Brigadoon. All of our shipments are dispatched using trackable Royal Mail. Royal Mail First Class Recorded & Packaging £4.99 GBP (order £6.99 orders over £60) Royal Mail Airsure Traceable Service £9.99 GB Spend £100 GBP or More & Your Shipping is Free!

Shop

Shop

Shop

8,27 €
Last checked: April 6th, 2019