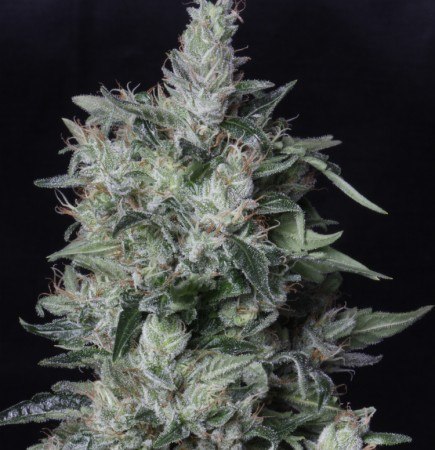 (T.H.Seeds: A-Train)
HYBRID
T.H.Seeds:
A-Train
Flowering Time: 50-60 days
The A-train™ is a hybrid between afghani Mazar I Sharif and the clone-only Arcata e-32 Trainwreck™. Trainwreck™ is an infamous plant. It looks like a train wrecked in your room—all the plants falling over themselves. Train-wreck™ is a spindly plant that needs support almost immediately. The MiS helped girth it out a bit and overall she stayed pretty true to her low-leaf count, which really helps with manicuring. On the inhale you taste the menthol, slightly lemony flavor that leaves your tongue numb and an almost immediate kick is felt before you get to experience the surprisingly smooth exhale. It leaves you smiling and your eyes are little slits—you and your friends start getting creative, but the munchies take over. This is classic stoner weed. The medicinal qualities seem apparent enough: ocular pressure lowered, appetite enhancement, stress relief; this plant has it all.
T.H.Seeds: A-Train
Shop
Country
Payment / Shipment
Offers

BPPS

United Kingdom
ACCEPTED PAYMENT:: BANK TRANSFER
CREDIT CARD
MAILING CASH
PHONE

SHIPPING::Herbies Seeds ship worldwide but we ask you to check your local law before ordering, as laws differ from country to country, state to state and by ordering, you are confirming that you are ok to do so.

Shop

Shop

Shop

Shop

Shop

Shop

Shop

Shop

7,95 €
United Kingdom
ACCEPTED PAYMENT:: BANK TRANSFER
MAILING CASH
CREDIT CARD
BITCOIN

SHIPPING::Our expert team sends packages worldwide every day. We use discreet stealth packaging and have a very good track record of sending seeds to every country.

Shop

Shop

7,31 €
Austria
ACCEPTED PAYMENT:: BANK TRANSFER
CREDIT CARD
BITCOIN
WESTERN UNION

SHIPPING::All costs, the shipping and handling, as well as the costs of the moneytransaction and the customs duty, pay our customers. All goods will be delivered with the Austrian Post - if the amount is higher than EUR 100,-- we will send the order always insured. If the amount is under EUR 100,-- we send it regular but you have an option at the orderprocess where you can choose an insured delivery - this service costs EUR 2,85 extra. If you wish a Stealth-Delivery you can also choose this during the orderprocess - for this service we charge you EUR 5,50 extra. Stealth-Delivery means that we repack your seeds from the original breederspack into an other very discreet package. Orders of EUR 150,-- (€) or more we do not charge any shipping or handling fees. For return delivery and rejected delivery we have to charge you 10 % of the total amount!

Shop

Shop

6,09 €
Netherlands
ACCEPTED PAYMENT:: BANK TRANSFER
DIRECTebanking
iDeal
BITCOIN
MAILING CASH

SHIPPING::We ship to all countries within the EU. We strive to offer you the lowest possible shipping rates. To offer you even further value, all orders of € 150,- or more are sent free of charge!

5 Fem. Seeds for 40,00 €

Shop

8,00 €
United Kingdom
ACCEPTED PAYMENT:: BANK TRANSFER
CREDIT CARD
BITCOIN
MAILING CASH

SHIPPING::Do you ship to my country? Yes unless you are in North Korea or Brigadoon. All of our shipments are dispatched using trackable Royal Mail. Royal Mail First Class Recorded & Packaging £4.99 GBP (order £6.99 orders over £60) Royal Mail Airsure Traceable Service £9.99 GB Spend £100 GBP or More & Your Shipping is Free!

Shop

Shop

9,17 €
Last checked: April 6th, 2019 | Prices containing * are currency converted and may differ insignificantly from the price of the vendor.